A New "New Deal" for Education: Top 10 Policy Moves for States in the COVID 2.0 Era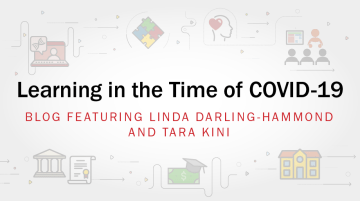 This post was originally published on May 19, 2020 by Forbes, and is part of LPI's Learning in the Time of COVID-19 blog series, which explores evidence-based and equity-focused strategies and investments to address the current crisis and build long-term systems capacity.
As the coronavirus pandemic continues, it is clear that picking up where we left off and returning to business-as-usual in education will not be possible. In many ways, this is a good thing. Our education system has been deeply unequal and erratic in delivering on the promise of a quality education for all of America's children. Additionally, even before Covid-19 emerged, increasingly disruptive climate events were regularly interrupting learning for students in areas hit by catastrophic fires, floods, hurricanes, blizzards and other extreme weather.
This pandemic puts a stark light on an emerging truth—education as we know it is over, and we must think of "school" in deeply different ways.
While some states have literally and figuratively closed their schools and turned out the lights, leaving even greater equity gaps than they had before, others have risen to the challenge of providing ongoing learning and supports to students and their families. Many of their creative responses hold promise for new and enduring ways to address educational quality and inequity.
Picking up where we left off and returning to business-as-usual in education will not be possible. In many ways, this is a good thing.
Here is my top ten list of policies that could allow us to seize this moment to strengthen learning opportunities for our students—today, next year, and into the future.
1. Close the digital divide.
The Covid-19 crisis has made it clear that technology-supported learning will be part of the future of education, and that all children must be provided with access. Schools may reopen only to close again for periods of time next year; some may reopen with schedules that blend distance learning with social distancing on-site; and, when Covid-19 passes, natural disasters like hurricanes and fires will continue to shutter schools for periods of time. Even when schools reopen, students will need to stay home if they have been exposed to the virus, so they will have to plug into distance learning at any time.
The pandemic has highlighted disparities in access to digital devices and the internet. When schools were closed, 15 percent of U.S. households and 35 percent of low-income households with school-age children did not have a high-speed internet connection at home. In early April, nearly 2/3 of leaders in high-poverty districts reported that a lack of basic technology was a "major" problem. With connectivity now clearly essential to ongoing learning as well as families' access to telehealth, employment, and needed benefits, some states and districts, as well as corporations and philanthropies, have made major investments in technology for students. In some areas, school buses are providing "Wifi on Wheels," and efforts are underway at the federal and state levels to increase access to broadband. Leaders should make a commitment to close the digital divide once and for all, so that every student has the opportunity to become technologically proficient and to be fully engaged in learning.
2. Strengthen distance learning.
Access to devices and the internet alone does not ensure high-quality learning. Education leaders must pair efforts to close the digital divide with supports to enable educators and families to deliver high-quality distance learning. They should also prepare for blended learning when students return to school sites. Educators are hungry for opportunities to collaborate with and learn from their peers on how to deliver engaging learning experiences and to build new approaches to pedagogy that can enrich the way they use technology to support student learning both during and after this pandemic. Transmission teaching in which students "sit and get" information has long been archaic; now, more than ever, students need to develop skills to conduct research and evaluate information on-line; discuss and debate ideas in zoom classrooms, via chat, and in-person; collaborate to design tools, conduct investigations, write up results, and give and receive feedback as they revise their work. These pedagogies should be used to teach students cognitive strategies and reflective skills that enable them to become self-guided, independent learners. States and districts can play a key role in curating pedagogical resources for this kind of distance and blended learning to support development of these skills across subject areas and student groups, including English learners and students with learning differences. As in Miami, Florida, these resources should be organized into an Instructional Continuity Plan so that educators, parents, and students know how to keep learning going at all times.
3. Emphasize authentic learning and assessments.
Schools that successfully motivate students to engage in learning even when schooling has been disrupted are connecting lessons to real world applications, allowing students to explore the world around them. For example, the American Federation of Teachers has launched a virtual initiative on capstone projects that allow students to show what they have learned in innovative, meaningful ways at any grade level, linked to standards. Student work ranges from writing essays about a favorite book to research on a current issue, to preparing and participating in on-line debates. Chicago Public Schools has developed a list of projects by grade level, and California's guidance to educators includes platforms that can be used to demonstrate learning through the use of performance-based assessments that sharpen critical thinking and communication skills. Some schools are organizing virtual defenses of students' completed research projects and portfolios. These initiatives—with teachers providing guidance and support—can enable students to develop greater agency and metacognitive skills that allow them to continue to learn strategically, preparing them more fully for the kind of work they will experience in college and in life.
4. Ensure supports for social and emotional learning.
The Covid-19 crisis has stretched families to the breaking point, as many struggle with job losses in an economy with more than 20% unemployment, the stresses of being confined at home, responsibility for both the care and education of children, and COVID-related illnesses. Children of all ages are struggling with the ensuing stress and trauma. While adversity impacts learning, these effects can be mitigated by strong, trusting relationships and opportunities to develop social and emotional learning (SEL) skills. These skills can be developed even through distance learning. Minnesota has developed resources to support students by building a positive virtual school climate during distance learning, maintaining connections and helping students and educators cope with stress. Washoe County School District, Nevada, is creating weekly distance learning plans incorporating practices for all grade levels to continue students' in-school SEL lessons at home. States should make sure that providing these kinds of supports for students, families, and educators—as well as curriculum and professional development supports for educators to infuse these skills into all school experiences—is a priority throughout this pandemic and beyond.
5. Redesign schools for stronger relationships.
When schools re-open, educators will need to address a wide range of learning needs, both social-emotional and academic—needs that will remain in a future that promises to disrupt schooling further. Research shows that school designs that support caring and continuity in student-teacher relationships—such as those that allow teachers to loop with students for more than one year or to serve as advisors to a small group in secondary school—are more able to address trauma and strengthen achievement than traditional factory model schools. Chiefs for Change recommends that secondary students return to small mentored groups when school re-opens. When teachers work with students over multiple years and come to know their students well, they can better support academic and social-emotional learning, connect with families, and attend to a range of needs. For this reason, some teachers and other experts are recommending that students return next year to their teacher from last year. Policymakers can help schools incorporate personalizing features—and creatively design blended learning models that integrate in-person and technology-supported learning—both by offering models of new designs and removing regulatory impediments enforcing antiquated notions of how time and staff should be organized in schools.
6. Support community schools.
To effectively meet the significant needs of students when they return to school, states and districts should consider expanding community school models that blend and braid federal, state and local funding to provide integrated health, mental health, and social services alongside high-quality, supportive instruction. Community schools replace the fragmented, bureaucratic, social services gauntlet families-in-need must often navigate with a student-focused approach that organizes resources from community partners where they can be most easily accessed: in school. States like Maryland and New York provide direct funding streams for community schools in high-poverty communities, while cities like Cincinnati, New York, Oakland, and Los Angeles coordinate funding and resources to enable this integrated approach. For example, during the school shut-down in California, the community school coordinator at Duarte High School in Los Angeles County organized calls to all 770 students in their home language to assess needs for food, technology, and mental and physical health supports provided by the school. To keep students and families connected, the coordinator also created a daily Instagram feed to which more than 600 students tune in daily for announcements celebrating college acceptances, birthday shout outs, and tips from the school's resource guide.
7. Expand learning time.
Research has long pointed to summer learning loss for children from low-income families as a source of the achievement gap. Already wide gaps are likely to be compounded by school closures and worsened by disparities in access to technology and high-quality distance learning. States and districts should plan to provide expanded learning time for students, beginning this summer and continuing throughout the school year, taking this opportunity to end the agrarian calendar that aggravates achievement gaps and replacing the long summer hiatus with shorter breaks throughout the year. Research shows that more time, used well, can accelerate learning. This may take the form of well-designed summer programs (most effective when students experience them for multiple summers), starting the school year earlier and running it later; scheduling school year-round; and/or extending learning during and after the school day, on Saturdays, or during school breaks. Effective designs for such programs feature personalized relationships, focused small group instruction, and learning applied to real-world problems and activities.
8. Use formative assessments that support growth.
These expanded learning opportunities should be informed by thoughtful diagnostic assessments. Rather than comparing students to each other within a single grade level, like the standardized tests that are widely used for accountability, useful diagnostic assessments, such as the Developmental Reading Assessment or the Balanced Assessments in Mathematics, show students' learning over time on a longer continuum of development and reveal how students think as well as what they know. Such assessments provide teachers with rich information to inform instruction. Computer-adaptive testing tools linked to formative assessments that zero in on students' skill levels in particular domains along a learning progression can also be helpful to support the right teaching at the right time, which ultimately leads to greater success. The explicit goal should be recognizing, celebrating, and accelerating learning progress by figuring out what students know and are ready to learn next, rather than labelling students as "above" or "below" grade level and holding many back or tracking them into remediation classes that often miss their needs and communicate stigma. Research shows that grade retention and "down tracking" ultimately reduce achievement and increase dropout rates. Instead, focused use of formative assessment and feedback followed by targeted instruction and practice produces some of the largest learning gains of any intervention in education.
9. Leverage more equitable school funding.
As we find ourselves in the worst economic downturn since the Great Depression, states, districts, and schools are preparing for painful budget cuts while they must also handle the increasing costs for technology, meals, supports for trauma, and new teachers needed for smaller class sizes due to social distancing. Schools in the United States are already among the most inequitably funded of any industrialized country—creating dramatic disparities in educational opportunities and outcomes for children. Students from low-income families and students of color are not only experiencing the harmful effects of Covid-19 in greater numbers, but their schools are also more likely to lack adequate funding to support their social, emotional, and academic needs, despite the society-wide benefits of more equitable funding for schools, including improved test scores, graduation rates, educational attainment, and wages in adulthood, especially for low-income students. Federal stimulus funding through the CARES Act and, soon, the HEROES Act may provide opportunities to support vulnerable students during the Covid-19 crisis. But estimates suggest that schools will need at least $200 billion to avoid cutting staff and services. In addition to advocating for federal aid, states should reconsider how their resources can be distributed more equitably, as California did when it introduced a more progressive school funding formula during the Great Recession. As new money eventually flowed to schools more equitably and with greater flexibility, the state has seen positive impacts on student outcomes and shrinking achievement gaps.
10. Sustain early childhood education programs.
What young children and families most need during and after this crisis is stable, nurturing support. Research shows that early childhood programs foster substantial gains in school readiness and are a key lever when it comes to narrowing achievement gaps that emerge before children even start school. Yet the closures of early childhood programs may not be easily reversible after the virus has subsided: Given the slim margins on which they operate, nearly two-thirds of early child education providers report that after a month without revenue, they expect to close permanently. Without government support to underwrite rent and payroll, many programs will be unavailable for our essential workers or for other families as they return to work. To address this, an increasing number of states have continued payments for subsidized child care programs while increasing rates for child care providers remaining open to serve children of essential workers. Vermont is also offering support to providers who serve private-pay families currently unable to afford tuition through its Child Care Stabilization Payment Program. Such state-level efforts, with federal support, will be essential to ensure ongoing early learning opportunities that put children a path to educational success.
It's clear that Covid-19 has launched us into a new era for education. If we get it wrong, we risk widening opportunity and achievement gaps in ways that will have longstanding impacts on our society and economy. But if we get this right, we may be able to finally achieve the empowering and equitable learning opportunities for all children that will provide the foundation for a thriving future for us all.