Community Schools Forward
Community Schools Forward
There is a significant and growing interest in the community schools strategy among federal, state, and local governments seeking to advance educational and economic opportunities and address historic educational inequities exacerbated by the COVID-19 pandemic. Building off this momentum and with support from Ballmer Group, four national partners—the Center for Universal Education at the Brookings Institution (CUE), the Children's Aid National Center for Community Schools (NCCS), the Coalition for Community Schools (CCS) at IEL, and the Learning Policy Institute (LPI)—are collaborating with education practitioners, researchers, and policymakers across the country to implement and scale up community schools in a joint project called Community Schools Forward.
Community Schools Forward comprises three core strategies: 
Align: Foster increased cohesion around core community school concepts and frameworks. 

Scale: Identify investment structures that sustain community schools at scale and for the long term. 

Build: Design infrastructure for technical assistance and professional learning that promotes high-quality implementation.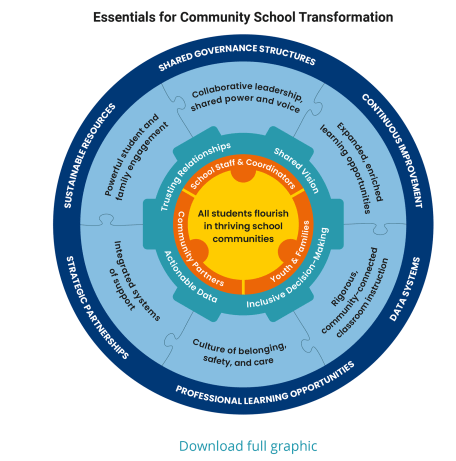 The Community Schools Forward resources help policymakers and practitioners align around a conception of community schools that addresses key questions: What are community schools? How do they work? What goals and outcomes are they working toward? The answers are found in three resources to guide adoption and implementation. These resources were developed over the course of two years with extensive input from hundreds of practitioners, the CSF National Task Force of leaders from over 45 organizations related to community schools, and working groups. They draw from existing materials and the most up-to-date research on community schools and the science of learning and development.
Framework: Essentials for Community School Transformation | This visual framework shows the essential elements of a fully implemented community school and depicts the integrated nature of community school transformation. (Estructura en español.)
Theory of Action for Community School Transformation | This tool explains the activities practitioners can undertake and the expected outcomes as they implement the essential elements of community school transformation. It also highlights the key structures that support schools to mature and sustain the strategy.
Outcomes and Indicators for Community Schools: A Guide for Implementers and Evaluators | This tool identifies realistic expectations for community school impact areas and long-term outcomes, and it specifies short- and medium-term outcomes and measures to monitor progress and continuously improve.
Further Reading
Costs and Funding

Partner Resources
Funders
This project is a collaboration between the Center for Universal Education at the Brookings Institution, the Children's Aid National Center for Community Schools, the Coalition for Community Schools at IEL, and the Learning Policy Institute. Funding for this project was provided by the Ballmer Group. We are grateful to them for their generous support.
The Learning Policy Institute conducts and communicates independent, high-quality research to improve education policy and practice. Core operating support for LPI is provided by the Heising-Simons Foundation, William and Flora Hewlett Foundation, Raikes Foundation, Sandler Foundation, and MacKenzie Scott. The ideas voiced here are those of the authors and not those of our funders.
More About the Partners
CUE at Brookings is a leading policy center focused on universal quality education and skills development around the world. The center plays a critical role in accelerating education change so that all learners can thrive in a rapidly changing world. CUE helps inform the development of policy related to global education and promotes actionable strategies for governments, civil society, and private enterprise.
The CCS is represented by leaders of all ages, stages and contexts from youth to grandparents; from educators to elected officials; from families to institutions; from health & human services to out of school time; and from government agencies to grassroots organizations. Together, we work to grow excellent and sustainable Community Schools. The Coalition is dedicated to advancing this mission through a shared set of principles: to build on community strengths, invest in trusting relationships, and a commitment to continuous improvement.
LPI conducts and communicates independent, high-quality research to improve education policy and practice. Working with policymakers, researchers, educators, community groups, and others, the Institute seeks to advance evidence-based policies that support empowering and equitable learning for each and every child. Nonprofit and nonpartisan, the Institute connects policymakers and stakeholders at the local, state, and federal levels with the evidence, ideas, and actions needed to strengthen the education system from preschool through college and career readiness.
NCCS is a practice-based technical assistance provider that builds the capacities of schools, districts, community members, service providers, government agencies, and other stakeholders to start, scale, and sustain community schools. Established in 1994, NCCS leverages Children's Aid's three decades of experience implementing community schools in New York City to inform its approach. NCCS is a founding member of the Coalition for Community Schools and is recognized nationally and internationally as a leader of the movement.

---
Main photo by Allison Shelley/The Verbatim Agency for EDUimages.