Whole Child Policy Table
Whole Child Policy Table
The Whole Child Policy Table (WCPT) is an initiative launched by the Learning Policy Institute in collaboration with state-facing membership organizations and whole child–oriented research and policy institutions. The WCPT unifies and coordinates the work of a broad set of policy partners working to create school environments in which every student is supported to learn and thrive academically, socially, and emotionally. These partners are providing research and resources that are galvanizing states to adopt research-based, equity-focused whole child policy platforms grounded in the science of learning and development.
The WCPT initiative is aligned around five key elements of whole child policy: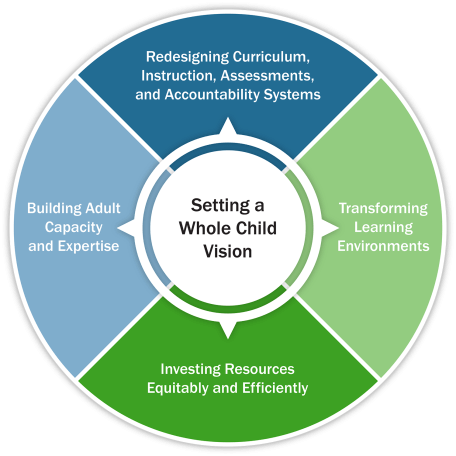 Whole Child Education Research
Whole Child Education Research
A "whole child" education prioritizes students' developmental needs as a way to ensure all students are supported to learn and thrive. This approach recognizes that students' education and life outcomes are dependent upon their access to deeper learning opportunities in and out of school, as well as their school environment and relationships.
Funders
Funding for this project has been provided by the S.D. Bechtel, Jr. Foundation, Carnegie Corporation of New York, Chan Zuckerberg Initiative, Harmony and Inspire at National University, William and Flora Hewlett Foundation, Pure Edge, Inc., and Wallace Foundation. Core operating support for the Learning Policy Institute is provided by the Heising-Simons Foundation, William and Flora Hewlett Foundation, Raikes Foundation, Sandler Foundation, and MacKenzie Scott. We are grateful to them for their generous support.
Partners
Partners of the WCPT include Council of Chief State School Officers; National Association of State Boards of Education; National Conference of State Legislators; National Governors Association; Afterschool Alliance; America's Promise Alliance; CIVIC; Collaborative for Academic, Social, and Emotional Learning; Education Commission of the States; EducationCounsel; Edutopia; Forum for Youth Investment; National Urban League; Opportunity Institute; and the SoLD Alliance.