The Impact of the COVID-19 Recession on Teaching Positions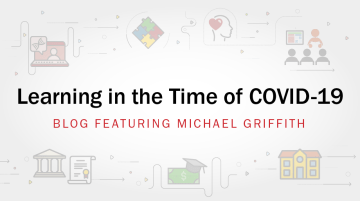 This post is part of LPI's Learning in the Time of COVID-19 blog series, which explores evidence-based and equity-focused strategies and investments to address the current crisis and build long-term systems capacity.
"Those who cannot remember the past are condemned to repeat it." – George Santayana
The current economic downturn will put a large number of public school teachers' jobs at risk. How do I know this? Because it happened to us before, just 12 years ago. Between 2008 and 2010, during the Great Recession, our country lost more than 120,000 teaching positions (see figure below). The number of impacted jobs would have been even worse if not for the Federal Recovery Act, which provided $97.4 billion to our public schools. According to the U.S. Department of Education, "Approximately 275,000 education jobs, such as teachers, principals, librarians, and counselors, were saved or created with Recovery Act funding." In other words, if the federal government had not stepped in to help our public schools, more than 395,000 education jobs would have been lost.
The Long-Term Impact on Teaching Positions
The teacher position cuts that took place during the Great Recession proved to be long-lasting. It has been almost a decade since the end of the recession, and we still have fewer public school teachers today than we did in 2008 (see figure below).
The Importance of Retaining Teachers
Recruiting and retaining high-quality teachers is essential for student learning. As a 2019 Learning Policy Institute analysis found, "Investments in instruction, especially high-quality teachers, appear to leverage the largest marginal gains in [student] performance." Research has shown that teacher cuts during the last recession disproportionately impacted districts and schools serving students of color and students from low-income families. This also had the result of creating higher rates of teacher turnover in schools with the highest concentrations of students in poverty, further undermining their learning. States and districts should institute policies that ensure that districts and schools serving the students with the highest need are protected as much as possible from the effects of layoffs.
The Long-Term Impact of the Great Recession
The Great Recession started in 2008 but did not hit its low point for public education until 2010. According to data compiled by Daniel Thatcher, a Senior Fellow at the National Conference of State Legislatures, state k–12 funding hit its lowest point in 2010, when it was approximately 8% below 2008 levels. Also noteworthy is that it took 6 years—from 2008 to 2014—for state education spending, on average, to rebound to 2008 levels (see figure below). Even then, average spending had not caught up to inflation, and many states were still spending below their pre-recession levels.
Estimating the COVID Recession's Impact on Teachers
While predictions are wide-ranging, most suggest that our current economic downturn, plus the extraordinary costs for health care and unemployment, could produce a reduction in state education revenue of at least 10% this year and 20% or more in 2020–21. It is difficult to estimate the length of any recession, but it is hard to believe that our current economic situation will turn around overnight—like flipping off a light switch. If these projections are correct, the resulting hit to education spending would be two and a half times worse than the lowest point of the last recession.
If these projections are correct, the resulting hit to education spending would be two and a half times worse than the lowest point of the last recession.
In a previous blog post, I introduced a tool that allows for estimating how cuts in state education revenue could impact school funding. I've adjusted this tool to determine how teaching positions could be affected by cuts in state contributions to education. While constructing this new tool, I made two significant assumptions:
Most districts will continue their current spending patterns. Public schools spend approximately 80% of their budgets on salaries and benefits. According to the U.S. Census, districts spend 53% of their operating revenue specifically on instructional salaries and benefits, and I assume this will continue to be the case. This number varies from state to state; because of this, I used each state's actual expenditure amounts for instructional salaries in my calculations.
Teacher layoffs will primarily be based on seniority. As stated earlier, in the past recession, districts reduced teaching positions based primarily on seniority. According to the U.S. Department of Education, 10% of teachers have been in the field for 3 years or less. I designed the model so that the first 10% of budget cuts would impact teachers at the state's starting salary and benefit levels. When calculating the impact of state funding cuts of about 10%, I used the average cost of teacher salaries and benefits in each state.
A national economic downturn will impact different states in different ways, depending on how reliant their schools are on state revenue (which, in the short run, will be more vulnerable to major decreases than are local property taxes). State contributions to education funding generally derive from income and sales taxes but may also come from a myriad of other sources (alcohol and tobacco taxes, lottery revenue, and other various license fees and taxes). To make things even more confusing, states like Michigan and Vermont have statewide property taxes, while other states like California and Texas make use of local property taxes in their statewide funding distributions. However, the intricacies of state funding formulas will have to wait for another blog.
---
Data for this interactive provided by LPI; design courtesy of Education Week. See related story at Education Week.
---
Using the tool, you can see that a 15% reduction in state contributions to education funding could result in the loss of just under 319,000 teaching positions in this country. If these cuts were to happen, it would likely result in an 8.4% reduction in America's public school teaching force. In the table below, you can see the projected number of lost teaching positions under various scenarios. These estimates represent cuts even after accounting for the first federal CARES Act funding for education, but they do not assume any additional federal funding.
Below are states whose teaching force would be most impacted, numerically or proportionately, by a 15% reduction in state education revenue (see table below).
The Impact on Individual Districts
What this model cannot do is predict how state cuts will impact individual districts. However, we do know that not all districts will be affected in the same way. Wealthy districts with high levels of local property tax revenue will be less impacted by the downturn. Low-wealth districts that have a greater reliance on state revenue will be hit particularly hard by this recession, as they were in the last recession. These low-wealth districts are the most likely to see the loss of a large number of their teaching positions and are most in need of additional assistance from either state or federal sources.
The Need for Federal Funding
Just as with the last recession, states and districts will need federal assistance to avoid massive teacher layoffs. Any federal rescue package should consider the fact that this downturn will take place over an extended period. The last recession impacted state funding for 5 years; there's no reason to expect that this deeper recession will end sooner. The CARES Act distributed funding based on the federal Title I, Part A formula, which directs funding toward students from low-income families. Any new federal funding program should encourage states to distribute federal funds through a formula that further leverages equity by taking student and district needs into account. These funding factors could include a district's relative wealth, student educational needs (low-income, English language learner, and special education), and/or how badly the virus has impacted each state and district.
A Decision Today Could Impact a Generation of Students
Without the intervention of the federal government, hundreds of thousands of teachers could lose their jobs—impacting the education of millions of students in this country. We saw this play out during the Great Recession, and we know how this story could end if nothing is done. The pandemic has already created economic losses that will take many states years to recover from, and the negative impact on student learning may be felt for decades. For these reasons, our political leaders in Washington, DC, should not wait to provide significant aid to our schools at this crucial time.
---
---