California's Positive Outliers: Promising District Approaches for Achieving Educational Equity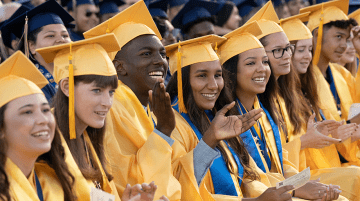 The views, thoughts, and opinions expressed in this video belong solely to the speakers, and do not necessarily reflect the perspective of the Learning Policy Institute.
Join the conversation: #PositiveOutliersCA
In an era of landmark education reforms and investments, a number of California's school districts are achieving extraordinary results with students across racial and socioeconomic groups.
On September 10, the Learning Policy Institute hosted leading researchers, policymakers, and practitioners at an event which took a deeper look into several of these "positive outlier" districts and their vision, initiatives, and practices. The event featured the release of a new Learning Policy Institute report, Closing the Opportunity Gap: How Positive Outlier Districts in California Are Pursuing Equitable Access to Deeper Learning, and highlighted education exemplars to spur dialogue about how California can build upon and expand the promising practices of these extraordinary districts. Topics included:
An overview of student outcomes in seven "positive outlier" districts and the factors associated with their successes
A deep dive into the innovative practices and initiatives that districts are using to support learning across a diversity of students
Key policy and practice considerations for scaling promising approaches throughout California
This report is a companion to California's Positive Outliers: Districts Beating the Odds, which was released earlier this year.
Speakers
Sabrina Alvarez

, 12th Grade Student, California Academy of Math and Science, Long Beach Unified School District

Tom Armelino

, Executive Director, California Collaborative for Educational Excellence

Vernon Billy

, CEO and Executive Director, California Schools Boards Association

Dion Burns

, Senior Researcher, Learning Policy Institute

Bridget Cruz-Brown

, 8th Grade Teacher, Bud Carson Middle School STEM Academy, Hawthorne School District

Linda Darling-Hammond

, President, Learning Policy Institute

Francisco Escobedo

, Superintendent, Chula Vista Elementary School District

Corrine Folmer

, Assistant Superintendent, Clovis Unified School District

Sofia Freire

, Chief of Leadership and Learning, San Diego Unified School District

David Goldberg

, Vice President, California Teachers Association

Rigel Spencer Massaro

, Senior Legislative Counsel, Public Advocates

Kent McGuire

, Education Program, William and Flora Hewlett Foundation

Chris McIntire

, Principal, McKinley Primary School, Gridley Unified School District

Matt Navo

, Director of Systems Transformation, WestEd Center for Prevention and Early Intervention

Anne Podolsky

, Researcher and Policy Analyst, Learning Policy Institute

Wendy Poffenberger

, Principal, California Academy of Math and Science, Long Beach Unified School District

Mary Vixie Sandy

, Executive Director, California Commission on Teacher Credentialing

Patrick Shields

, Executive Director, Learning Policy Institute

Wesley Smith

, Executive Director, Association of California School Administrators

Tony Thurmond

, State Superintendent of Public Instruction, California Department of Education