Strengthening the Educator Pipeline: Evidence-Based Approaches to Teacher and Leader Preparation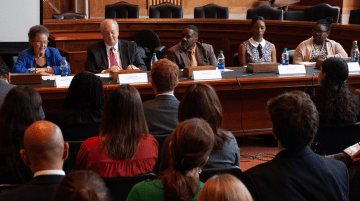 As the skills students need to be successful in the 21st century change, so too must the type of instruction they receive. Educators need to provide educational opportunities that support students in meeting challenging state academic standards and that are responsive to the needs of an increasingly diverse student population. Well-prepared educators are crucial to the success of states' efforts under the Every Student Succeeds Act to create inclusive educational environments in which all students have the opportunity to develop skills such as critical thinking, complex problem solving, effective communication, collaboration, and academic mindsets.
Right now, our nation is facing teacher shortages in areas such as special education, science, mathematics, world languages, bilingual education, and career and technical education—fields that are vital to our economic success. Addressing teacher shortages begins with high quality teacher and leader preparation. Research shows that better prepared teachers stay longer in the profession and are more effective in improving student achievement. Investments in teacher and leader preparation advance equity in the high-need communities where schools are often staffed by a revolving door of underprepared and inexperienced teachers.
At the briefing, speakers discussed approaches to teacher and leader preparation that are effective in meeting these goals, such as high-quality residency programs and Grow Your Own models. Speakers also discussed the types of skills educators need to be prepared with to create inclusive classrooms that provide each and every student with a high-quality education.
Speakers
Senator Tim Kaine (D-Virginia)
Linda Darling-Hammond, President, Learning Policy Institute
Andrew P. Daire, Dean, Virginia Commonwealth University, School of Education
Brittany Jones, Teacher, John Marshall High School, Richmond, Virginia, former Richmond Teacher Residency Resident, Virginia Commonwealth University School of Education
Steven L. Paine, State Superintendent of Schools, West Virginia Department of Education
Naomi N. Shelton, National Director of K-12 Advocacy, UNCF