Webinar: Restarting and Reinventing School for Equitable and Empowering Learning
Hosted by the Learning Policy Institute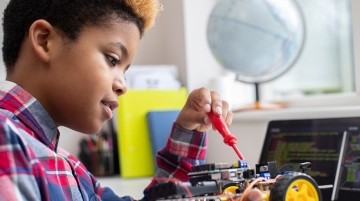 The views, thoughts, and opinions expressed in this video belong solely to the speakers, and do not necessarily reflect the perspective of the Learning Policy Institute.
The COVID-19 pandemic has greatly expanded awareness of the deep and long-standing inequities in the U.S. education system—from access to technology, to school funding, to access to quality instruction and supportive learning environments. As we consider how to restart education for the country's students during a global pandemic, this moment also holds the possibility of reinventing a deeply flawed system so that, as we return to "normal," we will not also return to the inequitable status quo.
This webinar featured prominent education and civil rights leaders who discussed how policymakers, educators, and advocates can seize this moment to rethink school in ways that can transform learning experiences and close opportunity and achievement gaps.
The webinar highlighted a recent Learning Policy Institute report, Restarting and Reinventing School: Learning in the Time of COVID and Beyond, that provides research, state and local examples, and policy recommendations in 10 key areas to serve as a framework to help schools reinvent themselves around principles of equity, authentic learning, and stronger relationships. Speakers discussed how to:
Close the digital divide and allocate resources to leverage learning opportunities
Support equitable, effective, and empowering teaching and learning regardless of the medium
Address instructional loss by accelerating learning, rather than tracking and remediating
Ensure attention to the needs of the whole child
Foster a strong, stable, and diverse educator workforce
Speakers:
Richard A. Carranza, Chancellor, New York City Department of Education
Linda Darling-Hammond, President, Learning Policy Institute
John B. King Jr., President and CEO, The Education Trust
Abby Schachner, Senior Researcher, Learning Policy Institute
Randi Weingarten, President, American Federation of Teachers
Resources Shared During the Webinar