Webinar: Using School Climate Data to Meet Student Needs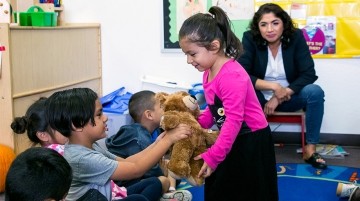 The views, thoughts and opinions expressed in this video belong solely to the speakers, and do not necessarily reflect the perspective of the Learning Policy Institute.  
On February 5th, the Learning Policy Institute (LPI) and the National Urban League (NUL) hosted a webinar entitled, "Using School Climate Data to Meet Student Needs." Under the Every Student Succeeds Act (ESSA), states are measuring, collecting, and reporting on a variety of school climate and social and emotional learning (SEL) indicators to address student needs and progress towards meeting those needs. With all of these data, how can districts and schools be responsive to the identified needs and opportunities?
In this webinar, panelists shared resources designed to support state and district leaders, teachers, principals, advocates, parents, and youth as they use data available under ESSA to create positive and inclusive learning environments that meet the social, emotional, and academic development of each and every student, including:
How are states measuring school climate and SEL under their ESSA accountability systems? What additional measures could be adopted at the local level to ensure that student needs are met?
How can districts and schools take advantage of high-leverage equity measures in their state accountability and local systems to close gaps in educational opportunities and outcomes?
What are the implications for teacher and leader practice in order to be responsive to inequities and needs identified by these data? What are the implications for district and school policy?
How can we engage parents and caregivers, as the experts on their own children, to ensure that resources and programming are both research-based and relevant to local communities and cultures?
The webinar highlighted NUL's focused efforts supporting how students grow and thrive, and LPI's report, Educating the Whole Child: Improving School Climate to Support Student Success, which identifies key policies, priorities, and strategies to develop productive school environments. Learning Heroes highlighted insights from their national study, Developing Life Skills in Children, A Roadmap for Communicating with Parents. Speakers answered questions from the webinar registrants and audience.
Speakers:
Robyn Brady Ince, Vice President, Education Policy and Advocacy, National Urban League
Channa M. Cook-Harvey, Director of Social and Emotional Learning, Folsom Cordova Unified School District, California
Windy Lopez-Aflitto, Vice President, Content and Partnerships, Learning Heroes
L-Mani Viney, President of the Viney Group for Social Impact, Educator, Piscataway High School, and Executive Director, Kappa Foundation

This webinar is supported by funding from The California Endowment, the Chan Zuckerberg Initiative, the S. D. Bechtel, Jr. Foundation, and the Stuart Foundation. Core operating support for the Learning Policy Institute is provided by the Sandler Foundation, the William and Flora Hewlett Foundation, and the Ford Foundation.