Sherrilyn Ifill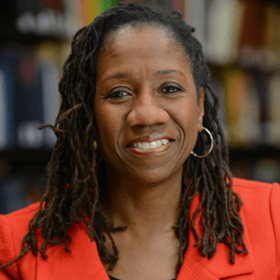 Sherrilyn Ifill served as the seventh President and Director-Counsel of the NAACP Legal Defense Fund (LDF), and currently serves as President and Director-Counsel Emeritus.
Ifill began her legal career as a fellow at the American Civil Liberties Union and then spent five years as an assistant counsel in LDF's New York office. Among her successful litigation efforts was the landmark Voting Rights Act case Houston Lawyers' Association vs. Attorney General of Texas in which the Supreme Court held that judicial elections are covered by the provisions of section 2 of the Voting Rights Act. In 1993, Ifill joined the faculty of the University of Maryland School of Law. In addition to teaching in the classroom, she launched several innovative legal offerings. A critically acclaimed author, her book On the Courthouse Lawn: Confronting the Legacy of Lynching in the 21st Century reflects her lifelong engagement in and analysis of issues of race and American public life. Her scholarly writing has focused on the importance of diversity on the bench.
Ifill is the immediate past Chair of the Board of U.S. Programs at the Open Society Institute. She is a graduate of Vassar College and received a J.D. from the New York University School of Law.