Sherrilyn Ifill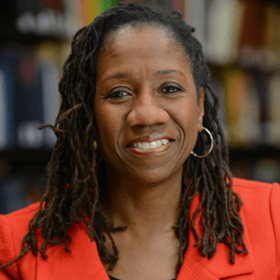 Sherrilyn Ifill is a civil rights lawyer and scholar. From 2013–2022, she served as the President and Director-Counsel of the NAACP Legal Defense and Educational Fund, Inc. (LDF). She currently serves as a Senior Fellow at the Ford Foundation.
Ifill began her career as a Fellow at the American Civil Liberties Union before joining LDF as an Assistant Counsel, where she litigated voting rights cases for 5 years. She previously taught civil procedure and constitutional law on faculty at University of Maryland School of Law in Baltimore. A prolific scholar and author, Iffil has published many academic articles, op-eds, and commentaries, and her highly acclaimed book, On the Courthouse Lawn: Confronting the Legacy of Lynching in the 21st Century (Beacon Press), is credited with laying the foundation for contemporary conversations about lynching and reconciliation. As the President & Director-Counsel at LDF, Ifill was an important voice in the national conversation about race and civil rights; led the organization in groundbreaking litigation on voting rights, economic justice, and education; and took a prominent role in confronting police violence against unarmed Black people.
Ifill graduated from Vassar College with a BA in English and earned her JD from New York University School of Law. She is the recipient of numerous honorary doctorates and awards, including the Radcliffe Medal, the Brandeis Medal, and the Thurgood Marshall Award from the American Bar Association. She serves on the board of the Mellon Foundation, the Baltimore Museum of Art, and the Board of Trustees of New York University School of Law.