Federal Action Removes Long-Standing Obstacle to School Integration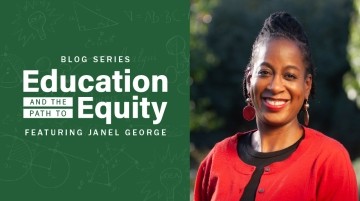 This blog is part of the series, Education and the Path to Equity, examining issues of education and equity 5 decades after the Kerner Commission issued its seminal report on racial division and disparities in the United States.
When Congress passed the mammoth $2.3 trillion federal funding legislation—the Consolidated Appropriations Act of 2021—last December, most of the press focused on the package's much-needed COVID-19 relief funds and the narrowly averted government shutdown. But nested within the legislation is game-changing language that removes a long-standing obstacle to states and school districts fulfilling Brown v. Board of Education's promise of eliminating separate and unequal schools. Effective January 1, 2021, there is no longer a prohibition on the use of federal school transportation funds to support school integration.
Provisions barring use of federal funds for transportation to support school integration were first enacted by Congress in 1974 in the wake of vehement opposition to busing, particularly following the 1971 case of Swann v. Charlotte-Mecklenburg. In this case, a federal court declared that busing could be one of many mechanisms to effectuate school desegregation. Since then, two prohibitions against the use of funds for busing have been included annually in an education funding bill and another one was embedded in the General Education Provisions Act. These prohibitions stood for almost half a century, until two of the provisions were removed in the 2019 funding bill, and the last provision was removed in the recent omnibus budget bill. The National Coalition on School Diversity, whose membership includes civil rights, legal, and research organizations, has advocated for the removal of these prohibitions for several years.
While today's schoolchildren are more racially and ethnically diverse than ever, half attend schools in which more than three quarters of their peers are of the same race.
Removal of these prohibitions signals a hopeful shift in federal support of voluntary local school desegregation efforts—and the availability of much-needed resources to support them. This is particularly significant as the country is experiencing rates of school resegregation that rival those that preceded Brown. Recent data show that a large percentage of k–12 public schools are "hypersegregated," with student populations that are almost entirely Black and Latino/a and from low-income families. While today's schoolchildren are more racially and ethnically diverse than ever, half attend schools in which more than three quarters of their peers are of the same race.
Segregated and Unequal
Black and Latino/a students in highly segregated schools are faced with profoundly unequal educational opportunities, including fewer qualified and experienced teachers; greater instability caused by rapid teacher turnover; and fewer educational resources, such as rigorous course offerings. These disparities have a deleterious impact on students' educational outcomes, as measured by scores on standardized tests and graduation rates. This is why a primary goal of desegregation has not just been about changing the racial composition of schools, but about expanding access to quality resources. The Civil Rights Project put it this way: "Sitting next to a white student does not guarantee better educational outcomes for students of color. Instead, the resources that are consistently linked to predominantly white and/or wealthy schools help foster real and serious educational advantages over minority-segregated settings."
Students who attend integrated schools are likely not only to experience positive academic outcomes in math and science, but also positive social outcomes, including:
increased likelihood of graduating from high school and attending college;
development of cross-cultural understanding;
decreased bias and prejudice; and
improved critical thinking.
These benefits accrue not just to students of color—but to all students attending integrated schools. Research demonstrates that students who attend integrated schools are also more likely to live or work in integrated places as adults. And—particularly significant, given the country's current social and political context—integrated schools foster increasing levels of civic participation and help to prepare students to participate in democratic processes with diverse groups of people.
Why Transportation Matters for School Integration
Transportation is critical for school integration strategies that cross segregated school district lines. Interdistrict or regional magnet schools, which have been found to foster diversity, offer unique specialized instruction and academic offerings designed to draw students from different neighborhoods. Magnet schools originated as a remedy in school desegregation cases in the 1960s, with the specific goal of promoting integrated schools. They have traditionally been based in urban districts with the goal of drawing white families from the suburbs into schools in urban centers.
Other interdistrict programs, like that in the Hartford, CT, region, seek to integrate through two-way transfers, enabling students to travel into and out of the Hartford region. Through such programs, families can select from a variety of options, including applying to attend one of the region's 44 magnet schools or schools in another district (through the Open Choice program). An analysis of these programs demonstrates the effectiveness of this strategy. It found that more than 45% of the region's participating Black and Latino/a k–12 students attended schools in settings more diverse than neighborhood public schools.
Free transportation plays a key role in fostering diversity in magnet schools. For example, a recent research synthesis highlighted findings from a study of magnet schools in two large Midwestern districts. The study found that, particularly for parents of color, the availability of transportation was an important consideration in choosing a magnet school. Another study of leaders of magnet schools, including magnet school project directors, district superintendents, and assistant superintendents, found that magnet schools that provided free transportation were less likely to be racially isolated than those that did not.
Despite the known benefits of providing free transportation in advancing regional and interdistrict desegregation efforts, use of this tool has been constrained by lack of funding. This is due both to the prohibitions on the use of federal funds for this purpose and to state and local budget constraints. For example, Boston's Metropolitan Council for Educational Opportunity (METCO) busing program—which began in 1966 when there was opposition to court-ordered busing programs—has become increasingly popular, but it is unable to meet demands for participation. Entrance to the program is now by lottery, and there are currently 8,000 students vying for 300 spots in the program, in part due to limited resources. Access to federal funds could help the program to expand. 
The federal prohibitions have also hampered state and local use of Title I funds under the Every Student Succeeds Act for school improvement efforts that involve increasing diversity and reducing socioeconomic and racial isolation. As the National Coalition on School Diversity noted in a letter written in 2018, when all of the prohibitions were in effect, "These provisions could have a chilling effect on states' and districts' efforts to undertake diversity measures when they know that these efforts could be stymied by the federal government."
Despite the known benefits of providing free transportation in advancing regional and interdistrict desegregation efforts, use of this tool has been constrained by lack of funding.
An Important Step—And More Work Ahead
The removal of the final prohibition on use of federal funds for transportation to support school integration is a huge step toward supporting innovative local desegregation efforts. History demonstrates, particularly following passage of the Civil Rights Act of 1964, that the support of the federal government has a positive impact on state and local school integration efforts. Conversely, lack of federal support has periodically undermined and hampered state and local desegregation programs.
Other ways that the federal government may support state and local integration efforts include:
Federal guidance on best practices to support school integration. As the new administration considers education priorities, the U.S. Department of Education can update and reissue federal guidance on school diversity. Guidance issued by the Obama administration in 2011 was withdrawn in 2018 by the Trump administration. By elevating examples of effective school desegregation programs that meet court-imposed criteria, guidance can serve as a valuable resource for states and districts. Such guidance—particularly if produced through interagency collaboration among the Departments of Education, Housing, and Transportation—can help states and districts craft strategies that address their unique housing, transportation, and education contexts.
Technical assistance support. The federal government can play a pivotal role in advancing school integration by supporting states and districts in their local school desegregation efforts. Such support could enable states and districts to provide on-site consultation and feedback on school operations; help with diversity-program implementation (e.g., program design and structure); and create opportunities for educators and others seeking to support desegregation to participate in local and state conferences, trainings and workshops, and community meetings.
Federal investment in school diversity programs. Increased support for diversity programs, like the Magnet Schools Assistance Program (MSAP), will enable more students to reap the positive benefits of integrated schools. Funding to support magnet schools has not kept pace with other federal investments in education. Current funding for the program is $109 million. In contrast, charter schools, which research shows have typically been more segregated than other schools, are funded at $440 million. The current funding represents a relatively small amount of federal support given the important role magnet schools can play in creating more integrated education settings.
Guidance to programs that support school integration. The federal government can strengthen existing federal programs that support school integration. For example, MSAP can be modified to prioritize applicants that plan to include evidence-based elements and strategies that advance school integration. These could include centering school integration in a school mission or structure; engaging in family outreach and engagement; providing transportation; and using inclusive enrollment practices, such as lotteries.
Federal grant funding to support local integration programs. The federal government could once again use grant funding to provide targeted support for local school desegregation programs. For example, the federal government could reprise the 1972 Emergency School Aid Act, which provided grants to districts working to desegregate their schools, including through the creation of magnet schools and funding of professional development to build the capacity of teachers to teach in diverse schools and to develop more diverse and inclusive curricular materials. Funding through this program could support a variety of strategies, including implementing or sustaining voluntary integration programs—independently or as a multidistrict collaboration; establishing public school choice zones; revising school boundaries; or expanding access to transportation for students.
Fulfilling Brown's Promise
Federal support is vital to helping districts fulfill Brown's promise of access to quality educational opportunities. Despite vocal opposition, there has also been strong support in some communities for voluntary school integration efforts. These initiatives were effective—particularly when they received federal support. And the impact was significant for students attending integrated schools.
In his book, Children of the Dream: Why School Integration Works, economist Rucker Johnson writes about his study of the effects of court-ordered desegregation on students born between 1945 and 1970. Johnson found that graduation rates climbed by 2 percentage points for every year a Black student attended an integrated school, and Black students also achieved higher educational attainment, including greater college attendance and completion rates. The study also found that a Black student exposed to court-ordered desegregated schools for at least 5 years experienced an 11 percentage point decline in the annual incidence of poverty in adulthood and about a 25 percentage point increase in annual federal family income. These outcomes are in part due to the resultant impacts of integration on both school resources and school practices.
In the 1970s and early 1980s, when desegregation efforts were coupled with school funding reforms and anti-poverty initiatives, large gains in Black students' performance in reading reduced the achievement gap considerably—cutting it by more than half for 13-year-olds (from 39 points to 18 points on the National Assessment of Educational Progress) between 1971 and 1988. The achievement gap in mathematics narrowed by 20 points (about one third) over the same general period. However, these federal initiatives were ended in the 1980s, launching the period of resegregation and retrenchment experienced since.
Had the pace of progress achieved in that era continued, the so-called achievement gap would have been fully closed by the beginning of the 21st century. Instead, the achievement gap is 30% greater today than it was 30 years ago. This is not to assert that school integration alone can promote positive academic outcomes—integration must be accompanied by other equity efforts—but it is an essential component of educational equity. In the face of deepening resegregation and racial divisiveness, federal support is essential for districts to do the urgent work of fulfilling Brown's promise.