Underpaid and Undersupplied: The Hidden Costs of Teaching in America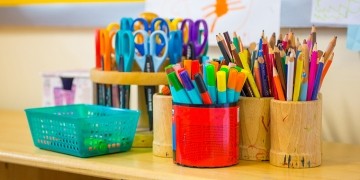 This post was originally published on September 1, 2023 by Forbes.
Printer paper, pencils, books, glue sticks, facial tissues, hand sanitizer, snacks. These are just a few of the many essential classroom items that teachers are paying for out of pocket each year to ensure their students are equipped to learn. Purchasing basic classroom supplies is another hidden cost of a career in teaching—a profession that, nationally, pays only 76% of the average salary earned by similarly educated professionals. Most of these teachers are also loaded down with student loan debt. The financial strain of being a teacher is a key force driving the teacher shortages that are, once again, complicating the start of school in many districts across the country.
From our analysis of national teacher survey data we found that, in 2019–20, 95% of public school teachers nationally spent their own money on classroom supplies without having been reimbursed, and, in every state, more than 9 out of 10 teachers incurred these unreimbursed expenses. On average, teachers spent $470 without being reimbursed, ranging from about $360 in South Dakota and Vermont to $640 in Nevada and $720 in Alaska, adjusted for state-level cost-of-living differentials.
On average, teachers' annual investments in school supplies for their own classrooms represented about 13% of their first month's salary. Teachers in schools with larger shares of students from low-income households tend to spend about 20 percent more of their own money on supplies than teachers teaching more economically advantaged students.
These expenses further exacerbate the underpayment of teachers and the financial strains they face and may contribute to the factors that drive the high attrition rates of teachers that are associated with teacher shortages in many states.
Teachers are doing one of the most important and demanding jobs in our society and one of the most important for our nation's future. They should not be asked to do so for lower wages and at higher personal costs than their peers who choose other careers. If we want to make the profession attractive to the smart, dedicated people it needs and meaningfully address chronic shortages, then it should not be on teachers to ensure their classrooms have pens, markers, staples, paper, and other essential supplies that their students need in order to learn.