How Can States and Districts Support Social and Emotional Learning for Continuous School Improvement Under the Every Student Succeeds Act?
Hosted by the Learning Policy Institute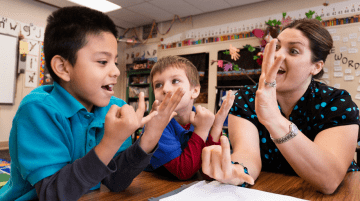 The views, thoughts and opinions expressed in this video belong solely to the speakers, and do not necessarily reflect the perspective of the Learning Policy Institute.
Honorary Co-Hosts: Senator Chris Murphy (CT) and Rep. Tim Ryan (OH-13)
Read the discussion on Twitter by using #SELbriefing and following @LPI_Learning.
Under the Every Student Succeeds Act, states and districts have an opportunity to broaden their definitions of student success to include students' social and emotional learning (SEL)—the foundation for academic and life success. Well-implemented programs designed to foster SEL are associated with positive outcomes, ranging from better test scores and higher graduation rates to improved social behavior. SEL competencies include such skills as the ability to collaborate or make responsible decisions; mindsets, such as thinking positively about how to handle challenges; and effective habits, such as coming to class prepared.
During this briefing panelists shared findings from the report Encouraging Social and Emotional Learning in the Context of New Accountability and discuss:
How and why does students' SEL affect college and career readiness?
What is the role of a positive and inclusive school climate in fostering students' SEL?
How can SEL and school climate be measured and what are appropriate uses of these measures?
How can states and districts support SEL in systems of continuous improvement and where is it already happening?
Opening Comments
Sen. Chris Murphy, Connecticut
Rep. Tim Ryan, 13th District of Ohio
Panelists
Victoria Blakeney, Education Program Professional, State of Nevada Department of Education
Linda Darling-Hammond, President and CEO, Learning Policy Institute
Leticia Guzman Ingram, Teacher, Basalt High School, Basalt, CO and 2016 Colorado Teacher of the Year
Hanna Melnick, Research and Policy Associate, Learning Policy Institute
Stephan Turnipseed, Executive Vice President and Chief Strategy Officer, Destination Imagination