Linda Darling-Hammond Named NASBE Policy Leader of the Year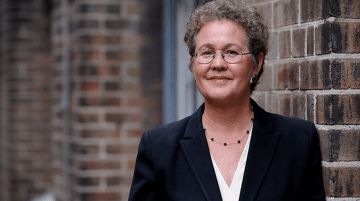 In recognition of her profound impact on education in California, the National Association of State Boards of Education (NASBE) has named LPI President Linda Darling-Hammond as its 2023 Policy Leader of the Year. The award is given annually to an individual who has had a broad, substantial impact on education policy and the education system.
Darling-Hammond, who also serves as president of the California State Board of Education and is the Charles E. Ducommun Professor of Education Emeritus at Stanford University, was recognized for her leadership in transformative work to improve public education for 5.8 million California students and their families.
Among the impacts cited by NASBE are the launch of the California Community School Partnership Program, which has supported more than 1,000 California schools in implementing a whole child approach to improving teaching and learning while integrating health and social services, and family and community engagement, and the ongoing redesign of the State's accountability and continuous improvement systems to focus on the needs of the whole child. These include measures to identify and meet the needs of students who have been historically underserved.
Darling-Hammond also co-chaired the state's master plan for universal prekindergarten. The plan has guided enactment and implementation of transitional kindergarten for all four-year-olds—a new grade to be fully implemented by 2025–26—and expansion of preschool for three-year-olds.
"I am honored to be the recipient of this year's Policy Leader award," said Darling-Hammond. "I share this recognition with all our dedicated state board members, with Governor Newsom, who cares passionately about education and children's well-being, with our hard-working State Superintendent Tony Thurmond and the Department of Education team, and with our leaders in the state legislature. I am proud of California's work to set in motion a true whole-child transformation of public schools. I look forward to continuing to improve the quality of public education for the students and families we serve."
"The Policy Leader of the Year award is the highest honor that state board of education members can bestow," said NASBE President and CEO Paolo DeMaria. "We are honored to recognize Dr. Darling-Hammond for her policy leadership in California and nationally. She is a powerful voice for creating equitable, effective education systems that meet the needs of all students."
The 2023 Policy Leader of the Year award will be presented to Dr. Linda Darling-Hammond during NASBE's Annual Conference in San Diego, California, on October 25-28.