Redesigning School Accountability and Support: Progress in Pioneering States
By
Channa Cook-Harvey
Elizabeth Leisy Stosich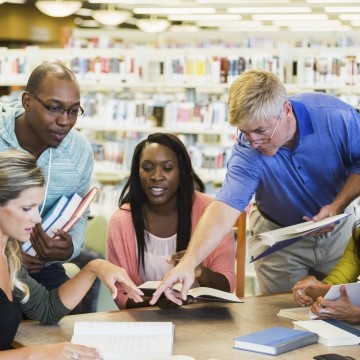 During 2015, a group of diverse states formed a learning community focused on redesigning their accountability systems. Their shared goal: to create systems that would better support both school improvement and students' acquisition of deeper learning skills. Dubbed the "51st State" Working Group, these 10 states—California, Colorado, Iowa, Kentucky, New Hampshire, Oregon, South Carolina, Vermont, Virginia, and West Virginia—worked from a framework developed by Linda Darling-Hammond, Gene Wilhoit, and Linda Pittenger, which proposed a new paradigm for accountability and described how a hypothetical "51st state" might implement strategies to ensure all students were college, career, and life ready upon graduation.
This report, published jointly by the Learning Policy Institute and the Stanford Center for Opportunity Policy in Education, documents the progress of these pioneering states to transform their systems of accountability in order to provide more meaningful learning opportunities for all students. Their work together focused on five key design elements:
Developing seamless pathways to college and career that are supported by a common statewide definition and strategies for ensuring access to learning opportunities, measuring progress against these expectations, and intervening when progress falters.
Supporting flexibility and strategies for innovation that create opportunities for schools and systems to experiment with new approaches to curriculum, assessment, instruction, accountability, or school organization and to document best practices to ensure they can be shared with other schools and educators.
Designing systems of assessment that reflect state and local goals for meaningful learning, include opportunities for authentic application, and are more closely integrated with curriculum and instruction.
Developing professional capacity to ensure all students are served by well-prepared, competent, and compassionate teachers and leaders and have access to rigorous and authentic learning experiences.
Creating accountability systems that draw on multiple sources of information to monitor the quality and equity of educational opportunities, outcomes, and resources and are paired with processes for providing direct support to schools and systems to foster continuous improvement.
States at a Glance
California
California's approach combines a more equitable system of funding with locally designed accountability plans that hold all schools and systems responsible for improving the learning opportunities and outcomes of all students. The state's newly adopted Local Control Accountability Plans meet the requirements of the Every Student Succeeds Act (ESSA) and are designed to provide a more comprehensive picture of school performance and progress than the previous system.
Colorado
Colorado has developed a plan to ensure students are college and career ready upon graduation by gathering input from a variety of stakeholders through several different initiatives, councils, and working groups. The state has also endorsed the use of performance assessments by providing support to schools as they develop assessments for use in determining educator effectiveness and by helping teachers integrate performance assessments into sample curriculum units spanning all grade levels and subjects.
Iowa
In Iowa, redesigning the state system of accountability has focused largely on adopting ambitious expectations for college and career readiness, supporting innovation through the adoption of competency-based models for learning and assessment, and growing the capacity of educators by creating opportunities for teachers to lead professional learning in schools. The state has also taken steps toward developing a multiple measures data dashboard system that can serve as a tool to inform and differentiate support for school improvement efforts.
Kentucky
Kentucky has taken a comprehensive approach to system redesign that includes a definition of college and career readiness, as well as multiple initiatives and opportunities for developing innovative learning models to support students in meeting these expectations. Kentucky is also using a multiple measures data dashboard to highlight school success, identify areas for improvement, and deploy focused support based on local needs.
New Hampshire
New Hampshire's approach to system redesign is focused on an "improvement-to-innovation continuum," which reflects a move toward a collaborative, support-based approach aimed at ensuring that students are able to demonstrate learning and mastery of skills on the path to college and career readiness. Central to this approach is the state's efforts to integrate performance assessments as part of its competency-based model.
Oregon
Oregon has defined college and career readiness by the knowledge, skills, and habits of mind required for postsecondary success. The state has raised graduation requirements and is encouraging the use of performance assessments to measure and support student progress in meeting these comprehensive expectations. Oregon's efforts to support innovation and school improvement have focused on proficiency-based learning models and early steps toward creating multiple measures data dashboards.
South Carolina
In South Carolina, accountability redesign has focused on adopting a comprehensive vision for high school graduates and creating opportunities for innovative approaches to learning that will support students in meeting these expectations, including career-based learning experiences, personalized learning, proficiency-based learning models, and other novel programs and courses. In addition, the state has redesigned its educator evaluation system to draw on multiple forms of evidence of student learning and is taking steps to develop a multiple measures accountability system for schools and districts.
Vermont
Vermont has taken a proficiency-based approach to system redesign that emphasizes personalized learning. The state provides educators with flexibility to design learning experiences and assessments that require students to demonstrate what they know and can do. A key mechanism for determining the effectiveness of this proficiency-based system is the use of Education Quality Reviews that incorporate quantitative and qualitative data in five dimensions of school quality: academic achievement, personalization, safety and school climate, high-quality staffing, and financial efficiencies.
Virginia
Virginia has taken strides to reduce high-stakes testing and shift toward a system of assessments, including performance-based assessments, aimed at informing instruction. School divisions (districts) have the freedom to design and administer assessments that are aligned to state-determined levels of quality and standards of learning. In addition, the state has multiple initiatives in place to support students in meeting expectations for college and career readiness, including early college programs and career and technical education programs.
West Virginia
West Virginia has adopted college and career readiness standards and assessments. The state employs a diagnostic review process to improve the capacity of schools to meet these expectations. In addition, the state has taken comprehensive steps toward growing professional capacity by redesigning its approach to professional learning and teacher evaluation.
Conclusion
Throughout the country, policymakers are charged with rethinking their systems of accountability and support under the ESSA. The experiences of these 10 pioneering states provide valuable examples of strategies and approaches that others might adopt or adapt in an effort to produce an educational system that prepares students to participate fully in our society.
---
This report is published jointly by the Learning Policy Institute and the Stanford Center for Opportunity Policy in Education.
Redesigning School Accountability and Support: Progress in Pioneering States by Channa Cook-Harvey and Elizabeth Leisy Stosich is licensed under a Creative Commons Attribution-NonCommercial 4.0 International License.
Research in this area of work is funded in part by the S. D. Bechtel, Jr. Foundation. Core operating support for the Learning Policy Institute is provided by the Ford Foundation, the William and Flora Hewlett Foundation, and the Sandler Foundation.