Oakland International High School: A Thriving Community School for Oakland's Newcomer Students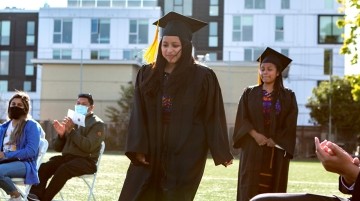 Entering Oakland International High School is like walking into a brighter and more welcoming world. More than 35 languages—and nearly as many countries of origin—are represented across the student population. Every student at the school is a newcomer, which means they have been in the United States for fewer than 3 years. Newcomers comprise approximately 3% of all California public school students in any given year and are a diverse group who bring a wealth of assets, as well as a set of challenges, with them. Most have a home language that is not English. Some have experienced limited or interrupted formal education, some are refugees, and an increasing number are unaccompanied minors. Many must navigate a new culture and language in addition to complex legal proceedings to establish citizenship.
Oakland International opened in 2007 as part of a network of public schools that exclusively serve newcomers. Since then, the school has grown into a robust community school with structures, practices, and partnerships that support and engage students—from medical care to support their health and well-being to a student-centered curriculum to support their academic success. Community schools leverage a complex web of partnerships and relationships to provide necessary resources for students and families. They therefore are well positioned to support newcomers as they transition to a new school and country and have been shown to improve outcomes for all students, not just newcomers. At Oakland International, there are just over 310 students in grades 9–12. Seventy-seven percent identify as Hispanic or Latino, 97% are socioeconomically disadvantaged, 91% are classified as English learners, 47% identify as homeless or foster youth, and 2% are students with disabilities. Twenty-two percent of students are refugees, and approximately 33% have experienced interruptions in their formal education.
This report examines the structures and practices in place at Oakland International High School that allow students, families, educators, and partners to experience a tight-knit and welcoming school community. This exploration of Oakland International's student-centered community school approach identifies six key takeaways for practitioners:
Relationships are essential and are supported by structures and practices such as cohorts, advisories, parent teacher home visits, and restorative circles.
Experiential learning, college-preparatory classes, and language acquisition are synchronized and mutually reinforcing, especially when bolstered by meaningful assessment.
Working with all students—especially newcomers—requires a coherent, culturally responsive approach that incorporates cultural humility, an inquiry mindset, and a willingness to adapt to meet students' needs.
Community school supports and partnerships expand the capacity of everyone on campus.
Ongoing professional development and dedicated planning time are key to staff learning, effectiveness, and sustainability.
A continuous improvement lens, coupled with a commitment to collaborative problem-solving, leads to meaningful innovation.
---
Oakland International High School: A Thriving Community School for Oakland's Newcomer Students by Charlie Thompson is licensed under a Creative Commons Attribution-NonCommercial 4.0 International License.
This research was supported by The California Endowment, the Sobrato Foundation, and the Stuart Foundation. Core operating support for the Learning Policy Institute is provided by the Heising-Simons Foundation, William and Flora Hewlett Foundation, Raikes Foundation, Sandler Foundation, and MacKenzie Scott. LPI is grateful to them for their generous support. The ideas voiced here are those of the author and not those of funders.
Cover photo used with permission from Oakland International High School.