It's Time to Ask a Different Question About Preschool Effectiveness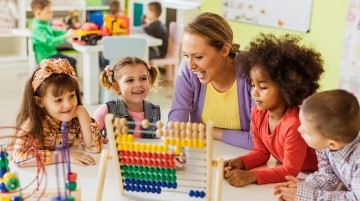 For decades, a central question has dominated the early care and education (ECE) conversation among researchers and policymakers: Does preschool make a long-term difference in the academic and life-long success of participants? Recently released research studies have revisited this question and underscored the importance of context when assessing the impact of preschool. They don't, however, change a fundamental finding: Attending a high-quality preschool leaves children better prepared for kindergarten and has lasting impacts on child outcomes, especially when it is followed by high-quality elementary school instruction.
Over the years, researchers have conducted a plethora of studies and evaluations to assess the long-term impact of preschool. And while the focus of these studies has differed, all underscore the same basic finding that access to preschool can change the academic and life trajectories of children. However, mixed results from evaluations of two programs—Tennessee's Voluntary Pre-K program and Head Start—have seemed to offer varied and contradictory conclusions. And so, as evidenced in the most recent media reports on studies of these programs, the debate continues over the long-term value of investments in preschool. 
The takeaway from media reports for policymakers and the public might be that we don't know whether preschool works. Yet that couldn't be further from the truth.
For example, a set of three contradictory studies about Tennessee's Voluntary Pre-K program appeared to demonstrate, first, that the program supported stronger achievement in kindergarten; then, that the effects were not sustained in elementary school; and, later, that these poorer results were associated with inferior elementary school quality rather than with the preschool experience itself. This third, most recent, study of Tennessee's Pre-K program found that children who attended the program were less likely than the more advantaged comparison group to matriculate into high-quality schools with high-performing teachers, factors that had an impact on their later academic success. However, when pre-k students did benefit from these two essentials, their gains from preschool were sustained well into the elementary grades.  
Other research has also found that sustained gains from preschool depend substantially on the quality of schools that participants subsequently attend. This was found to be the case in research on Head Start, the major federally funded early childhood program, which has had mixed results in studies over the years. Head Start participants who attended well-funded elementary schools had stronger, longer-term outcomes than those who went on to less well-funded schools.    
One study, which appeared to find that the long-run effects of the program were less positive than previously claimed, examined the impact of Head Start at a time when the program was seeing negligible increases in funding and the Reagan Administration was expanding enrollment by 30%—at the expense of program quality. The administration also reduced federal education spending to k–12 schools in high-poverty communities and cut funding for federal safety net programs. These trends hit hardest for children in the low-income communities Head Start serves, leading to a decline in school funding, teacher quality, and teacher salaries.
The takeaway from media reports for policymakers and the public might be that we don't know whether preschool works. Yet that couldn't be further from the truth.
As reaffirmed in LPI's recent report, Untangling the Evidence of Preschool Effectiveness: Insights for Policymakers, the literature clearly demonstrates that preschool sets young children on a path for academic success. The same report calls for researchers, policymakers, and the media to focus on a different question altogether: Under what conditions does access to preschool make a long-term difference for children? When the findings of recent preschool studies are examined with this new question in mind, their contributions to our knowledge about preschool are clearer and more consistent.
First, they underscore the findings of a substantial body of research that identifies key elements of preschool quality that matter for long-term outcomes. These include offering compensation and support that attract and retain a highly qualified workforce; a program day that provides adequate, productive learning time and activities; and child assessments used to individualize learning. Implementing these elements well, however, is complex and often expensive. 
These same kinds of factors matter for education in the primary grades that follows preschool. Early childhood education researchers have often invoked the analogy of vaccination to suggest that it is unreasonable to expect a single dose of preschool to permanently inoculate children from the ongoing detrimental effects of living in poverty and attending low-quality schools. The latest round of studies reinforces this analysis: The quality of elementary school is related to the sustainability of preschool gains. These studies also compel us to ask whether we—early childhood education researchers and those who report on their findings—need to refocus our attention. 
It is critical for policymakers to understand that investments in the quality of both early learning and later educational opportunities are vital to sustaining the gains children make in preschool. With this knowledge in mind, perhaps we can direct our attention to a more urgent and impactful matter: designing and implementing high-quality programs that ensure that all children—and society as a whole—reap the biggest benefits from preschool.