Ending the Masking Wars: The Path to Ensuring Our Children Are Safe and Well-Educated This Year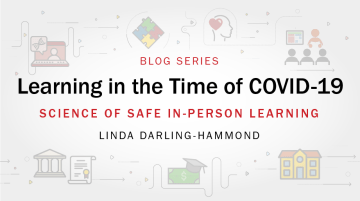 This post was originally published on August 31, 2021 by Forbes, and is part of LPI's Learning in the Time of COVID-19 blog series, which explores evidence-based and equity-focused strategies and investments to address the current crisis and build long-term systems capacity.
Many students, families, and educators who eagerly looked forward to a return to in-person learning this fall have instead found themselves on a pandemic roller coaster as the school year opens with a surge of COVID-19 cases. In many states, the surge is comparable to last summer's when many schools opened only to close back down again. And in more than a dozen states, schools just opened have begun to close already.
The new, highly contagious Delta variant is taking hold in the country as more people move about with fewer precautions. COVID-19 cases, hospitalizations, and deaths are climbing back up, and many states, especially in the south, are experiencing their worst outbreaks yet. In the last month, daily case rates in the country have more than doubled, hospitalization rates have more than tripled, and deaths have increased by 750%. Missouri's hospitals ran out of ventilators several weeks ago. Mississippi hospitals have been so overcrowded that the University of Mississippi Medical Center had to open up an emergency field hospital in a parking garage.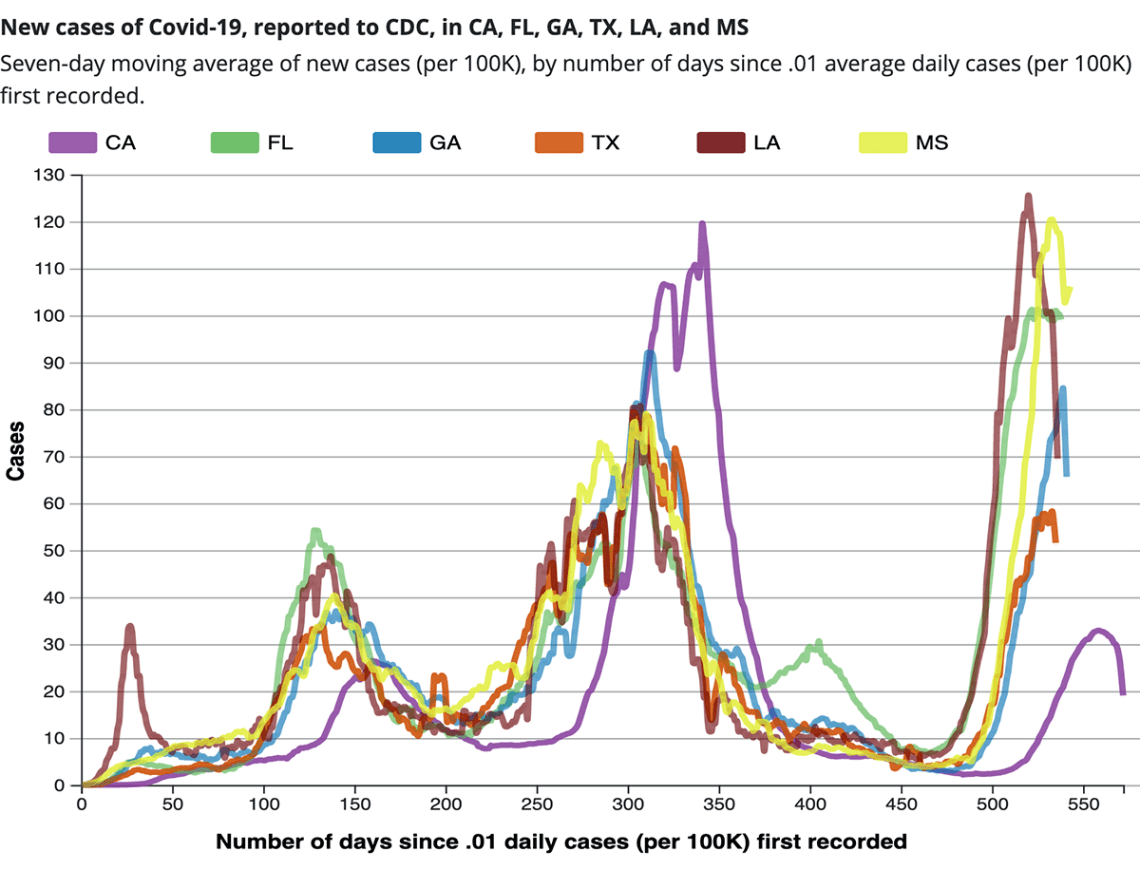 Not surprisingly, the states with the highest rates of new infections are generally those with the lowest vaccination rates—and also those where public officials are discouraging the use of masks or physical distancing. Unvaccinated people are about 11 times more likely to be infected with the virus. And about 40% of U.S. residents who have had to be hospitalized in the last month live in just two states where governors and legislatures have issued bans on mask mandates: Florida and Texas. A growing number of those hospitalized are children. In Florida, the rates of hospitalization for children are more than triple the national average and are more than 6 times the rate of states like California, where a very different set of policies are in play.
Despite the dangers to children, at the end of July, Florida governor Ron DeSantis threatened school funding and employees' salaries if they required students to wear masks in school. Many large county school districts nonetheless moved ahead with mask mandates, including Hillsborough, Miami-Dade, Palm Beach, and Broward County, where three teachers had died of COVID-19 within 24 hours of each other. U.S. Secretary of Education Miguel Cardona announced August 20 that the federal government would stand with these districts, allowing federal recovery funds to be used to offset any state financial penalties.
In early August, the number and severity of pediatric cases in Arkansas ICUs caused Governor Asa Hutchinson to seek to repeal legislation passed just a few months earlier that blocked schools and other government entities from instituting mask mandates. Hutchinson noted that he regretted signing the law and urged state legislators to repeal part of it so that school districts can adopt mask requirements before students return to school.
The masking wars are highly political, and they are fed by misinformation that puts the lives of children—and those who care for them in schools—at risk. It is critical that we quickly get widespread understanding of the available science so that we can protect students and ensure their education.
More From the Blog Series
The Science of Infection
As quickly as Delta has moved into the country, there are still many people who don't understand its impact. As recently as mid-May, the CDC believed that vaccinated people would be safe from infection and transmission and issued guidance suggesting they would not need to wear masks indoors. However, their information was based largely on studies from the original version of the virus and, just 2 months later, as new data on the Delta variant came out, they changed their guidance to recommend all individuals, vaccinated or not, wear masks indoors and all children above the age of 2 be masked in schools.
Over the course of only a month, Delta went from a small portion of the cases in the United States to more than 80% in most states. And, over the last month, new cases have gone from just under 14,000 per day to 170,000 new cases last week. Doubts about the risks of Delta to vaccinated people ended with the July wake-up call from Provincetown, MA, where at least 469 people who attended a large gathering were infected. In this highly vaccinated state, three-quarters of those who tested positive were vaccinated. It became clear that vaccinated people can become infected and can transmit the virus to others.
The good news is that only 1% of those infected and vaccinated were hospitalized. Scientists have learned that, while there are a small number of breakthrough cases (far less than 1% of vaccinated individuals), the risk of severe disease or death from COVID is reduced at least 10-fold in vaccinated people, and the virus stays for a much shorter period of time in vaccinated bodies. For those not vaccinated, though, there is concern that Delta may be more hard-hitting than the original virus: studies from Canada and Scotland found the Delta variant was about twice as likely to result in hospitalization in unvaccinated individuals.
The Science of Prevention
Even while Delta is driving case rates up—especially among those who are unvaccinated—we know a great deal about how to keep people safe. Masking is the most fundamental and effective tool available to prevent the spread of the virus, which is airborne. In the countries that have kept their schools and societies open throughout the pandemic, masking has been a core strategy.
Science shows that multilayered mitigation strategies such as masking, vaccination, testing and screening, handwashing, ventilation, and physical distancing are highly effective at preventing infection. Many studies have shown that in schools and child care settings where these rules have been followed, there is little or no transmission within schools, even when there are high rates of cases in the community as a whole. These data from a study from Wood County, WI, show the kinds of trends that have been seen in many contexts where in-school transmission is nearly zero even when community transmission is high.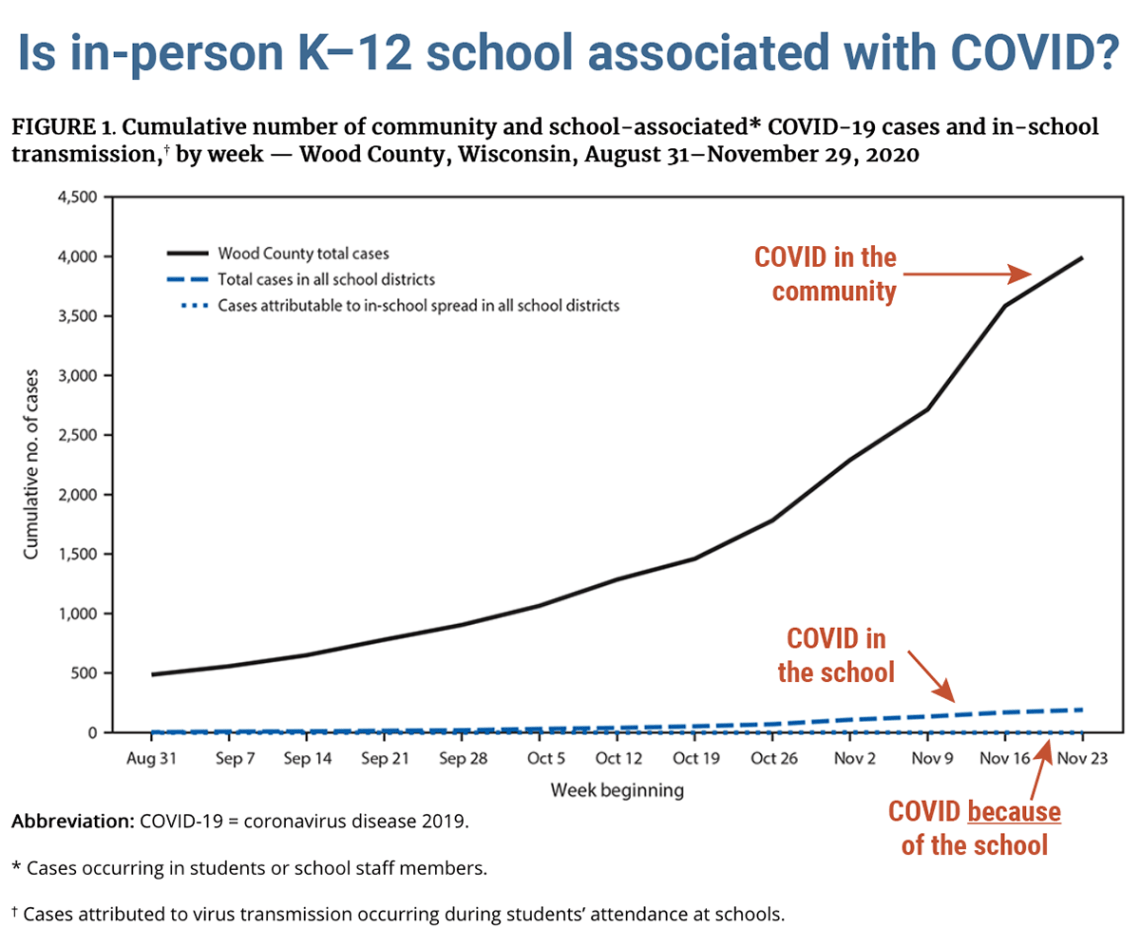 Failure to Follow the Science Endangers Students
However, in schools where these strategies are not followed, outbreaks can and do occur. In May 2020, under pressure to speed up its cautious school reopenings, Israel sent all students back to school. Initially the schools implemented a masking rule, but in the midst of a heat wave, the requirement was set aside. What followed was a rapid increase in infections among children across the country. Just about a month later, in mid-June, 355 schools had closed again, along with many other parts of the country. Similar situations were seen in France and South Africa and are now occurring across the U.S.
By the end of August, although many schools had not yet opened in the Northeast and Midwest, after just 2 weeks of school openings in southern and some western states, there have already been school closures for more than 700 schools in 158 districts across 25 states. Most of the school-discovered cases are coming in from the community. But when schools do not engage in safe practices—attention to masking, ventilation, hygiene, testing, tracing, and quarantining—transmission can occur within the building.
These outbreaks are, fortunately, beginning to move policies in safer directions. For example, in Indiana, a state where more than 90% of schools in Burbio's database reported one or more COVID-19 cases, districts have been steadily changing their plans to "masks required," and at least 16 states have recently enacted mask mandates for schools. 
It is a hopeful sign that policymakers are beginning to wake up to the realities of the Delta variant and to what we need to do to ensure students have access to safe and meaningful education. Ignoring the science on how we can protect ourselves from COVID-19 is reckless and irresponsible, especially when it comes to the country's 50 million public school students whom we have a moral obligation to protect and serve.
Ignoring the science on how we can protect ourselves from COVID-19 is reckless and irresponsible, especially when it comes to the country's 50 million public school students whom we have a moral obligation to protect and serve.
A Reliable Path to Safe In-Person Learning
Students and educators will surely suffer if schools are convened without adequate mitigation strategies in place. They will also suffer if schools experience recurring closures as they did last year, disrupting the relationships and learning continuity that are so critically important to young people's development. This does not need to happen.
In California, where I serve as President of the State Board of Education, Governor Newsom, along with public health and education officials, has been working with unswerving focus to ensure that all schools can fully and safely open for in-person instruction this school year in the face of the ever-shifting pandemic. On July 12, California was the first state in the nation to issue a renewed masking mandate for all adults and children in schools, and on August 11, we also became the first state to require vaccines or weekly testing of all school employees, on the heels of a similar requirement for all government workers. Since last spring, the state has vaccinated most of its population, expanding outreach in multiple ways including vaccine vans that go into high-need neighborhoods, and is supporting school-located vaccine clinics for all who will host them.
The state also mounted a program to provide COVID-19 testing without cost to all schools and districts and has distributed more than 3 million testing kits. Swift action teams with testing and vaccine resources are being deployed to schools with the most acute challenges as they deal with the cases that are coming in from the community. In the one small school that closed temporarily due to staff exposure, the state team was able to support rapid testing and tracing so that the school could reopen only a week later.
This summer, 9 out of 10 school districts offered summer school safely with masking and other mitigation strategies in place. And since late July, 17 of our largest 20 districts, plus hundreds of smaller districts, have opened on schedule (the others are on course to do so). The large majority of parents and educators have voiced support and gratitude for the masking and other safety measures, as students have joyfully returned. While community-based infections have been identified and required some quarantines as students return, schools have largely been ready to manage those processes. All schools have known they would need to provide distance learning options for students not ready to return or needing to quarantine.
The surest path to safe and full in-person instruction at the outset of the school year, as well as minimizing missed school days on an ongoing basis, is a strong emphasis on these reliable prevention measures. While there is a long way to go and there will be many challenging moments ahead, we are intensely focused on ensuring in-person learning for all students who choose it, living up to the California Constitution's assertion that public school students and staff "have the inalienable right to attend campuses which are safe, secure and peaceful."
As educators and policymakers, we need to keep our eye on the prize: the urgency of a safe return to school—one in which children, families, and educators can be assured that their welfare is front and center.
Safe In-Person Learning Is Essential and Possible
The masking war skirmishes that most states are experiencing distract us from the important mission of getting students back to school and ensuring they are safe. The lost in-person learning time during the first year of the pandemic was necessary to ensure students' physical well-being, but the isolation and educational challenges it created need attention now. Today, with a large and rigorous body of research to inform us, we can enable students and teachers and all of those supporting them to return to the important business of teaching and learning together.
As educators and policymakers, we need to keep our eye on the prize: the urgency of a safe return to school—one in which children, families, and educators can be assured that their welfare is front and center. We cannot afford to be confused or distracted and regretful later.
When misinformation and politics drive pandemic policy, people die. We should not repeat the tragic experience of Lydia and Lawrence Rodriguez, unvaccinated parents of four children who died within 2 weeks of each other after Lydia and the children contracted COVID at an unmasked church camp event. The mother's last wish: "Please make sure my kids get vaccinated." While it is easy to feel powerless in times like these, it is within each of our power to follow the science, not bow to political pressure, and help put an end to the heartbreaking tragedies that can too often rob our children of their loved ones as well as their education.Parents Call for Bold and Broad Action to Ensure More and Better Learning Time
Resources for Reopening Schools
This collection of resources brings together recent and rigorous science to inform school reopening efforts with evidence-based approaches to provide and sustain safe, in-person instruction for students. Visit the website >