Making it Work: State and Local Perspectives for Improving California's Early Learning System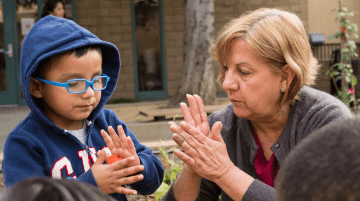 The views, thoughts and opinions expressed in this video belong solely to the speakers, and do not necessarily reflect the perspective of the Learning Policy Institute.
Jump to video segments: Introduction | Report Presentation | Panel One | Panel Two | Closing Remarks
On January 23, the Learning Policy Institute released Building an Early Learning System that Works: Next Steps for California. This new report complements the Learning Policy Institute's earlier report on early care and education (ECE), Understanding California's Early Care and Education System, which provides a comprehensive overview of the state's ECE system. The earlier report found that California's ECE system is complex and fragmented, and fails to provide hundreds of thousands of children with the quality early learning experiences they need.
Recognizing that many ECE decisions and implementation challenges are encountered locally, this new report examines 10 counties that vary by region, population density, and child care costs to understand how the state's ECE system functions on the ground.
The new report
describes how fragmented policy decisions made at the state and federal levels result in complexity at the local level;
highlights successful local practices that could inform statewide practices for ECE administration, access, workforce, quality, and data; and
offers immediate and long-term recommendations for improving the ECE system statewide.
At the forum, researchers presented key findings from the report, followed by panel discussions between state and local ECE stakeholders. Participants explored the challenges that the complexity of the ECE system in California creates and made recommendations for policymakers to improve the system.
Speakers
Assemblymember Kevin McCarty (D-Sacramento)
Patrick Shields, Executive Director, Learning Policy Institute
Marjorie Wechsler, Principal Research Manager, Learning Policy Institute
Hanna Melnick, Research and Policy Associate, Learning Policy Institute
Beth Meloy, Senior Researcher and Policy Analyst, Learning Policy Institute
Karla Pleitez Howell, Director of Educational Equity, The Advancement Project
Sarah Neville-Morgan, Director, California Department of Education - Early Education
and Support Division
Natalie Woods Andrews, Director, Early Learning Department, Sacramento County
Office of Education
Sean Casey, Executive Director, First 5 Contra Costa
Raechelle Bowlay-Sutton, Local Child Care Planning Council Coordinator/Quality Counts Administrator, San Luis Obispo County
Samantha Tran, Senior Managing Director - Education Policy, Children Now
September Jarrett, Executive Director, San Francisco Office of Early Care and Education
Wendy Dickens, Executive Director, First 5 Shasta
Patricia Lozano, Executive Director, Early Edge
Erin Gabel, Deputy Director, External & Governmental Affairs, First 5 CA
Dean Tagawa, Executive Director, Early Childhood Education Division, Los Angeles Unified School District
The work presented was supported by grants from the Heising-Simons Foundation and the David and Lucile Packard Foundation.
Photo by Drew Bird.