UPCOMING LIVESTREAM AND IN-PERSON EVENT | DECEMBER 6, 2023
Taking Stock of California's March to Equity: The Local Control Funding Formula at 10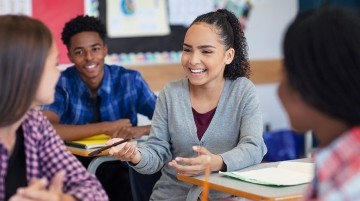 December 6, 2023
2 – 4:30 p.m. PT
This year marks the 10th anniversary of the passage of the Local Control Funding Formula (LCFF), which dramatically changed the landscape of education funding and accountability in California. What has LCFF accomplished in its quest to support greater equity and a more holistic strategy for educational quality in the state? How can California's approach to supporting education meet the new challenges posed by the pandemic, rapidly changing economic landscape, and increased demands for personalized education and learning recovery?
This event will provide an opportunity to hear from California leaders who launched the LCFF reform as well as those who are considering its development and implementation today. We will also highlight recent research from LPI Senior Research Fellow Rucker Johnson on the impact of LCFF on California's nearly 6 million students: School Funding Effectiveness: Evidence From California's Local Control Funding Formula.
Speakers include:
Edmund G. (Jerry) Brown Jr., Governor of California, 1975–1983 and 2011–2019
Governor Gavin Newsom (video interview), Governor of California, 2019–present
John Affeldt, Managing Attorney, Public Advocates
Linda Darling-Hammond, President and CEO, Learning Policy Institute; President, California State Board of Education
Martha Hernández, Executive Director, Californians Together
Lamont Jackson, Superintendent, San Diego Unified School District
Rucker Johnson, Chancellor's Professor of Public Policy, University of California, Berkeley
Michael Kirst, Former President, California State Board of Education
Julien Lafortune, Research Fellow, Public Policy Institute of California
Ana Matosantos, Former Cabinet Secretary in the Office of Governor Gavin Newsom; Former Director, California Department of Finance
Al Muratsuchi, Assemblymember, California 66th Assembly District
If you have questions about this event, please contact [email protected].
Registration is required for the livestream. Can't make it during the scheduled time? Register anyway and we'll send you a link to the recording.
Registration IS REQUIRED for the in-person event AND is on a first come, first served basis. To secure your spot, please register early. Registration will close December 1 or when full.
---
Speaker Biographies
Click to read more about each speaker.
Edmund G. (Jerry) Brown Jr.
Jerry Brown was the Governor of California from 1975 to 1983 and 2011 to 2019. He was elected trustee for the LA Community College District in 1969, California Secretary of State in 1970, and Governor of California in 1974 and 1978. After his governorship, he lectured and traveled widely, practiced law, served as Chairman of the state Democratic Party, and ran for president. Brown was elected Mayor of Oakland in 1998, California Attorney General in 2006 and Governor again in 2010 and 2014. Brown currently serves as Chair of the California-China Climate Institute, Executive Chair of the Bulletin of the Atomic Scientists, and Chair of the Oakland Military Institute College Preparatory Academy, and is on the board of the Nuclear Threat Initiative and Council on Criminal Justice.
Governor Gavin Newsom
Gavin Christopher Newsom is the Governor of California. He was elected Governor on November 6, 2018, after serving as Lieutenant Governor since 2010.
Newsom began his career in politics in 1995 as a volunteer for Willie Brown's campaign for Mayor of San Francisco. Mayor Brown appointed Newsom first to a vacancy on the Parking and Traffic Commission and then, in 1997, to a vacant seat on the San Francisco Board of Supervisors. Newsom was subsequently elected and reelected to the board before successfully running for mayor of San Francisco in 2003.
Prior to his career in politics, Newsom worked briefly in sales and real estate before starting a retail wine shop in San Francisco that eventually grew into the PlumpJack Group, which manages restaurants, resorts, and wineries throughout California.
Newsom graduated from Santa Clara University in 1989 with a degree in Political Science.
John Affeldt
John Affeldt is a Managing Attorney at Public Advocates, where he works on educational equity issues through litigation, policy advocacy, and power-building with grassroots organizations. He has both served as a lead counsel on major school funding and resource equity lawsuits and spearheaded a shift toward the organization's community partnership model of movement lawyering.
Since 2000, Affeldt's work in partnership with grassroots organizations has yielded significant equity reforms in state school finance, teacher quality, and accountability policies. In particular, the Williams v. CA settlement guaranteed California's students sufficient instructional materials, decent facilities, and qualified teachers. He has also helped to shape several provisions of California's Local Control Funding Formula (LCFF). These provisions have required schools to provide increased or improved services for high-need students in proportion to the additional funds generated by such students, established parental involvement as a new state priority, and required new levels of community engagement and transparency in school planning and budgeting statewide.
Affeldt is a founding member of a number of grassroots, community-based, and advocacy coalitions, including the California Partnership for the Future of Learning, the Campaign for Quality Education, Parents and Students for Great Schools, and the LCFF Equity Coalition. Before joining Public Advocates, he clerked for the Honorable William M. Hoeveler in federal district court in Miami.
Affeldt graduated Phi Beta Kappa from Stanford University in 1984 and cum laude from Harvard Law School in 1990. For his educational equity work, he has been named a California Attorney of the Year three times between California Lawyer Magazine (2005), the Recorder (2010), and the Daily Journal (2018).
Linda Darling-Hammond
Linda Darling-Hammond is the President and CEO of the Learning Policy Institute and the President of the California State Board of Education. She is also the Charles E. Ducommun Professor of Education Emeritus at Stanford University, where she founded the Stanford Center for Opportunity Policy in Education and served as the faculty sponsor of the Stanford Teacher Education Program, which she helped to redesign.
Darling-Hammond is past president of the American Educational Research Association and recipient of its awards for Distinguished Contributions to Research, Lifetime Achievement, and Research-to-Policy. She is also a member of the American Association of Arts and Sciences and of the National Academy of Education. From 1994 to 2001, she was Executive Director of the National Commission on Teaching and America's Future, whose 1996 report What Matters Most: Teaching for America's Future was named one of the most influential reports affecting U.S. education in that decade. In 2006, Darling-Hammond was named one of the nation's 10 most influential people affecting educational policy. She led the Obama education policy transition team in 2008 and the Biden education transition team in 2020. In 2022, she received the Yidan Prize for Education Research in recognition of her work that has shaped education policy and practice around the most equitable and effective ways to teach and learn.
Darling-Hammond received an EdD from Temple University (with highest distinction) and a BA from Yale University (magna cum laude).
Martha Hernández
Martha Hernández is the Executive Director for Californians Together, a coalition of 28 statewide professional, parent, and civil rights organizations focused on improving schooling for English learners by promoting equitable educational policy. Her 42 years of public school experience includes serving as the Assistant Superintendent of Educational Services for the Fillmore Unified School District; as Curriculum Director for the Ventura County Office of Education; and as a district administrator, principal, staff developer, and bilingual and special education teacher in various districts. She was also the Director of Bilingual Teacher Training at California Lutheran University and served as president of California Association for Bilingual Education. Hernández has served on numerous state advisory committees, including the Instructional Quality Commission, the English Learner Progress Indicator (ELPI) Workgroup, and the English Learner Roadmap Advisory Committee. In 2014, she was appointed by the State Board of Education to serve as the Co-Chair of the California English Language Arts/English Language Development Curriculum Framework and Evaluation Criteria Committee. Her work now focuses on biliteracy with an expansion of the California Seal of Biliteracy, the implementation of California's new English learner policy, the California English Learner Roadmap, and effective literacy for emerging bilingual and English learner students.
Lamont Jackson
Lamont A. Jackson is the Superintendent of the San Diego Unified School District. He is a San Diego native who graduated from the San Diego Unified School District, and he has been an employee of San Diego Unified for more than 30 years. Jackson has held the position of teaching assistant, teacher and coach, principal, chief human resources officer, and area superintendent. Throughout his career, he has maintained an unwavering focus on students' well-being and achievement.
Jackson is a lifelong educator and learner who continually seeks to both develop his voice and help others do the same. He frequently uses the African proverb Ubuntu—which translates to "I am, because WE are"—to ground his work in the development of the individual and the collective in service of a true community that fosters the development of all students. Jackson's work emphasizes equity, diversity, inclusion, and connecting with others to build trust and true partnerships in order to form environments in which all learners may thrive.
Jackson graduated from San Diego State University with a bachelor's degree in Sociology and Social Sciences. He received his doctorate degree in Educational Leadership from the University of San Diego, which he considers his greatest accomplishment in honor of his late father and his two sons.
Rucker Johnson
Rucker C. Johnson is the Chancellor's Professor of Public Policy in the Goldman School of Public Policy at the University of California, Berkeley, where he teaches graduate and undergraduate courses in applied econometrics and topical courses in race, poverty, and inequality. Johnson is also a faculty research associate at the National Bureau of Economic Research.
As a labor economist who specializes in the economics of education, Johnson studies the role of poverty and inequality in affecting life chances. His work fuses insights from multiple disciplinary perspectives to improve understanding of inequality in this country, including its causes, consequences, and remedies. His research has appeared in leading academic journals and has been featured in mainstream media outlets, and he has been invited to give policy briefings at the White House and on Capitol Hill. He is the author of the book Children of the Dream: Why School Integration Works. Johnson is the Sir Arthur Lewis Fellow of the American Academy of Political and Social Science, is a member of the American Academy of Arts & Sciences and the National Academy of Education, and received the 2017 Andrew Carnegie Fellowship.

Johnson earned his PhD in Economics at the University of Michigan.
Tara Kini
Tara Kini serves as the Learning Policy Institute's Chief of Policy and Programs, where she works in California and nationally to bring high-quality research to policymakers, including on issues related to educator quality, equitable school resources, whole child education, and early childhood education. She has more than 2 decades of experience working in public education as a civil rights attorney, classroom teacher, and teacher educator. Previously, she was a Senior Staff Attorney with the civil rights law firm Public Advocates, taught English and history for 6 years in Bay Area public schools, and served as a faculty supervisor with UC Berkeley's teacher education program. Kini is a member of the State Bar of California. She received a JD from the University of California, Berkeley School of Law and an MA in Education and a teaching credential from Stanford University, where she also received her BA.
Michael Kirst
Michael W. Kirst is Professor Emeritus of Education and Business Administration at Stanford University and a co-founder of Policy Analysis for California Education (PACE). He is a longtime education advisor to former California Governor Jerry Brown, who four times appointed Kirst as President of the California State Board of Education. In this position, Kirst was instrumental in reshaping education policy and finance in California and overseeing the new academic standards and assessments in math and English language arts, the new science standards, and the Local Control Funding Formula.
Before joining the Stanford University faculty, Kirst held several positions with the federal government. He has written or edited more than a dozen books, including The Political Dynamics of American Education and From High School to College: Improving Opportunities for Success in Postsecondary Education (with Andrea Venezia).
Kirst received a bachelor's degree in Economics from Dartmouth College, as well as an MPA in Government and Economics and a PhD in Political Economy and Government from Harvard University.
Julien Lafortune
Julien Lafortune is a Research Fellow at the Public Policy Institute of California, where he specializes in education and economics. His primary areas of focus include K–12 education finance, school infrastructure, human capital, and labor market policy. He has authored policy reports, briefs, presentations, and blogs on a variety of policy topics, including K–12 education, labor market issues, demographics, and housing markets. He has published academic research papers on school finance reforms and school capital investments in the American Economic Journal: Applied Economics and the American Economic Review: Papers and Proceedings.
Lafortune holds a PhD in economics from the University of California, Berkeley.
Ana Matosantos
Ana J. Matosantos is a former cabinet secretary in the Office of Governor Gavin Newsom. Previously, she was a budget and policy consultant, focusing primarily on issues relating to the state budget, education finance, health care, income inequality, and local government.
Matosantos served as Director of the California Department of Finance in both the Brown and Schwarzenegger administrations, helping the state deal with the impact of the Great Recession. She was Governor Brown's chief fiscal advisor as the state closed a $27 billion shortfall and transitioned from years of budget deficits to multibillion-dollar surpluses. She played a key role in enacting California's new school financing and accountability system, financing and implementation of the Affordable Care Act, and implementation of corrections realignment.
Before joining the California Department of Finance in 2008, Matosantos served as Deputy Legislative Secretary for Health and Human Services and Veterans Affairs in the Office of the Governor. She was a member of the Health and Human Services Agency staff from 2004 to 2007, serving as Assistant Secretary for Programs and Fiscal Affairs and Associate Secretary for Legislative Affairs. Prior to her executive branch service, she worked in the state senate as a consultant to the Senate Committee on Health and Human Services and as a human services consultant to the Senate Committee on Budget and Fiscal Review. In August 2016, she was appointed by President Obama to serve on the seven-member Puerto Rico Oversight, Management and Economic Stability Board.
Matosantos holds a bachelor's degree in Political Science from Stanford University.
Al Muratsuchi
California Assemblymember Al Muratsuchi represents the 66th Assembly District, located in the South Bay and Harbor Area of Los Angeles County. He is a former prosecutor and Deputy Attorney General with the California Department of Justice and a former Torrance School Board member.
Muratsuchi has written laws supporting education, jobs and the economy, clean energy and environmental justice, public safety, veterans, and small businesses. He is the Chair of the Education Committee and the Chair of the Assembly Select Committee on Aerospace. Muratsuchi and his wife, Hiroko, are raising their family in the South Bay, where he has lived for over 25 years.
Patrick Shields
Patrick M. Shields is the Executive Director of the Learning Policy Institute (LPI). Shields brings to LPI more than 25 years of experience managing large-scale social science research projects. Prior to joining LPI, he was the Executive Director of SRI Education, where he also served as Research Director for Teaching and California's Future, a 15-year initiative to track the quality of the teacher workforce that contributed to legislation to ensure high-quality teaching for all of California's students. Shields has also overseen many National Science Foundation- and foundation-supported studies of STEM opportunities for disadvantaged children, including serving as the co-principal investigator of the Science Activation Lab, a national research and design effort to dramatically strengthen learning.
Shields received a PhD and an MA in Educational Policy from Stanford University, an MA in Educational Administration from Columbia University, and a BA in Romance Languages from Amherst College. He recently served on the National Academy of Sciences Committee on Strengthening Science Education Through a Teacher Learning Continuum.
---