Webinar: Opening the Gates: Using Deeper Learning to Expand College Access
This Diversity, Equity, and Inclusion Initiative webinar series is supported by a grant from the William and Flora Hewlett Foundation.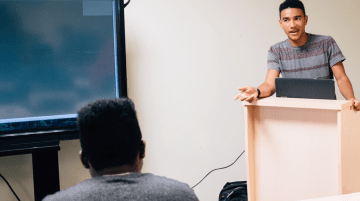 The views, thoughts and opinions expressed in this video belong solely to the speakers, and do not necessarily reflect the perspective of the Learning Policy Institute.
Join the conversation on social media: #EquityThruDeeperLearning
Over the last year, the Learning Policy Institute (LPI) and EducationCounsel have convened leaders in k-12 and higher education to explore how both systems might benefit greatly from more authentic and holistic ways of assessing students' competencies and mastery of 21st-century skills. This initiative, Reimagining College Access, begins with the premise that performance assessments can act as a driver of improved teaching and learning in k-12 education systems; provide critical information to advance access and diversity in higher education admissions, placement, and advisement; and advance an array of deeper learning knowledge and skills in both settings.
As a recently released LPI report, The Promise of Performance Assessments: Innovations in High School Learning and College Admission, describes, some leading places in both k-12 and higher education institutions are beginning to use performance assessments in these ways, but much more needs to be done if students' college and life-ready abilities are to be both encouraged in high schools and conveyed to colleges and universities. In particular, higher education systems can incent a wider array of k-12 districts and schools to develop and implement quality performance assessment systems. Performance assessments also have the potential to transform higher education by working with other measures to provide a more holistic view of applicants in college admissions, placement, and advising. Specifically, the information from these assessments can be used as an additional perspective on students' achievements and potential for postsecondary success, and offer a powerful complement to existing measures such as student grades, SAT/ACT scores, and Advanced Placement scores.
In this webinar, LPI's Roneeta Guha explored the emerging recommendations from three national RCA task forces that have been working over the past year and engaged participants in a discussion of where the work is heading next.
Panelists include:
David Hawkins, Executive Director for Educational Content and Policy, National Association for College Admission Counseling (NACAC)
David Ruff, Executive Director, Great Schools Partnership
Michael Reilly, Executive Director, American Association of Collegiate Registrars and Admissions Officers (AACRAO)
Paul Leather, Director of State and Local Partnerships, Center for Innovation in Education (CIE)
Photo by Ben Filio for Remake Learning.