The Promise of Performance Assessments: Innovations in High School Learning and Higher Education Admissions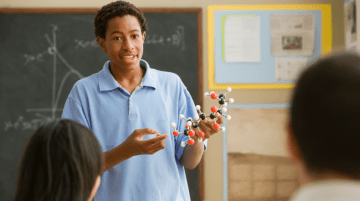 As states, districts, and schools are expanding instruction to include the competencies associated with college, career, and civic readiness, they are also developing ways to measure mastery of these deeper learning and higher-order thinking skills. These measures include performance assessments, such as portfolios, capstone projects, and senior defenses, alongside classroom performance. Meanwhile, more than 900 colleges have made standardized tests optional in their admissions processes and are looking for more effective ways to recognize an array of student accomplishments. As a result of these converging trends, a growing number of colleges are seeking more ways to include these broader portfolios of student work in their admission processes.
This report looks at how these assessments, which focus on the kind of learning students will need to be successful in our innovation economy, are being used to inform college admission, placement, and advising decisions, as well as how they're being used to leverage deeper forms of learning at all levels. The report describes a number of highly effective k-12 performance assessment systems in the United States and abroad and includes an appendix on current state policies supporting performance assessment. The report also discusses how college curricula and assessments are changing to foster deeper learning, and describes innovative college admission systems using these assessments.
If designed and used appropriately, such performance assessments could be a key component of k–12 systems and could, along with rigorous curriculum and high-quality instruction, drive improvements in teaching and learning. If organized in an easily reviewable form, results from rigorous, validated, high-quality performance assessments could be used for college admission as well as for placement or advising decisions, as an additional source of information about students' achievements and potential for postsecondary success.
These assessments also have promise for better reflecting the achievements and potential of historically underserved students, responding to concerns raised by many stakeholders about racial and socioeconomic gaps in standardized test scores. Many colleges have expressed interest in having access to such information and in developing and knowing students' qualities of character, commitment, and resilience. They see the need to increase college access and success, especially for underrepresented students and are moving toward broader explorations of student knowledge, qualities, and skills.
The report shares details of colleges already using performance assessments in admission decisions and examples of current state policy and practices (see Table 1).  
---
The Promise of Performance Assessments: Innovations in High School Learning and Higher Education Admissions by Roneeta Guha, Tony Wagner, Linda Darling-Hammond, Terri Taylor, and Diane Curtis is licensed under a Creative Commons Attribution-NonCommercial 4.0 International License.