Webinar | November 30, 2022
Money Matters: Evidence Supporting Greater Investment in Public Education
Co-Sponsored by the Education Law Center, ETS, and Learning Policy Institute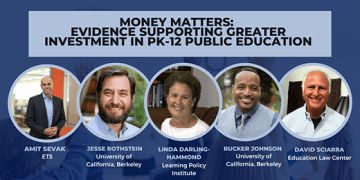 The views, thoughts, and opinions expressed in this video belong solely to the speakers, and do not necessarily reflect the perspective of the Learning Policy Institute.
In most states, inequitable school funding is chronic and often severe, consistently short-changing students in underserved communities. These students lack access to high-quality preschool, well-prepared teachers and support staff, curriculum and materials that foster deeper learning, and safe and healthy facilities—features that are essential for schools to support student success. This inequity persists despite a large body of recent research that shows that increasing funding in schools and investing funds strategically improves a range of student outcomes.
With an infusion of COVID-19 related federal relief funds, many states have the opportunity to invest in the structural changes that will, over the long term, make schools more equitable and whole-child focused.
Education Law Center, ETS, and Learning Policy Institute convened leading experts on educational equity to discuss the latest research on the impacts of increased public education spending to improve student achievement.
Featured speakers:
Linda Darling-Hammond, President, Learning Policy Institute
Rucker Johnson, Chancellor's Professor, Goldman School of Public Policy, University of California, Berkeley; faculty research associate, National Bureau of Economic Research
Jesse Rothstein, Director, Institute for Research on Labor and Employment; Professor of Public Policy and Economics, University of California, Berkeley
David Sciarra, Executive Director, Education Law Center (moderator)
Amit Sevak, President, Education Law Center