San Diego County: Mobilizing Technical Assistance, Partnerships, and Data to Support School Reopening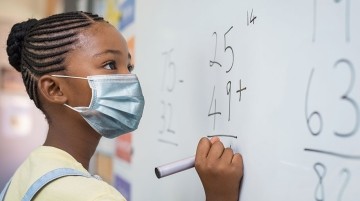 Summary
Since the COVID-19 pandemic emerged in the United States in March 2020, districts across the nation have faced the difficult task of reopening schools safely and keeping them open. It is useful to learn from the successes of districts that have used multilayered mitigation strategies to reduce the risk of in-school transmission. This brief describes reopening efforts in San Diego County, CA, where 98% of districts had reopened for in-person learning as of May 2021. The San Diego County Office of Education has mobilized technical assistance, leveraged partnerships, and gathered data to support districts as they have navigated initial school closure, distance learning, and planning for reopening. The brief also describes how the county supported the reopening of child care programs and highlights the reopening strategies adopted by Cajon Valley Union School District, the largest district in the county to resume in-person learning in fall 2020. It is part of a series of reopening profiles produced by the Learning Policy Institute to disseminate key public health research and reopening strategies to educators and policymakers.
Like many other counties in California, San Diego County closed its schools in March 2020 during the state's first wave of COVID-19 cases. But, unlike many counties in California, San Diego County was able to support school reopening in many of its districts beginning in the summer of 2020. Though the county suffered among the highest number of COVID-19 cases per capita in the nation, it nonetheless was able to move swiftly to reopen schools. By May 2021, 98% of school districts in San Diego County were providing hybrid or full-time in-person learning for a total of 55% of the county's public, non-charter school students. One district, Cajon Valley Union School District, has been open since September 8, 2020, and was the largest California school district to reopen beginning in fall 2020. Since reopening, the district has reported only three suspected cases of in-school transmission. This brief describes how San Diego County and Cajon Valley Union School District have been able to reopen schools.
Drawing from county and district documents and websites, as well as media coverage and interviews with staff at the San Diego County Office of Education and Cajon Valley Union School District, this brief describes how the county supported reopening: It mobilized technical assistance to help districts implement federal and state guidance, leveraged partnerships with local agencies to secure resources for reopening, and gathered data to inform the reopening process. This brief also highlights the county's efforts to support the safe reopening of child care programs. Where applicable, we provide links to resources that may be useful for policymakers and educators navigating their own school reopening plans.
The COVID-19 Context in California and San Diego County
Federal guidance and California state COVID-19 policies have informed San Diego County's approach to reopening schools. Since August 2020, California has assigned every county to one of four tiers (purple for widespread transmission, red for substantial, orange for moderate, and yellow for minimal) based on each county's test positivity and case rates, with rates adjusted for a county's testing volume. Tier status dictates which sectors (e.g., businesses, schools) must be closed in a county, and it establishes the conditions for reopening.
As of June 4, 2021, the least restrictive yellow tier corresponded to case rates below 2 cases per 100,000 people. The most restrictive purple tier corresponded to case rates exceeding 10 cases per 100,000. California raised tier thresholds in early April, following progress the state made on equitable vaccinations.
State guidance permits schools to remain open if they had been providing in-person instruction prior to a county's shift to purple—as occurred in San Diego County—or prior to case rates exceeding 25 per 100,000 people. When schools in San Diego County were first beginning to reopen in fall 2020, the state required school districts in purple-tier counties to receive an Elementary Education Waiver from their county public health offices before reopening elementary grades (transitional kindergarten through grade 6). Waivers did not allow districts in purple-tier counties to reopen upper grades. In January 2021, the state released an updated guidance framework that replaced the Elementary Education Waiver, although waivers approved prior to January 14, 2021, remain valid. The updated guidance allows all grades to reopen in all tiers, including the purple tier, if county case rates are below 25 per 100,000 people and if districts complete and post a COVID-19 Safety Plan. Districts in all tiers must post their plans on their home pages; districts in purple-tier counties must also concurrently submit their plans to their local health officers and the State Safe Schools for All team.
By mid-August 2020, four districts in San Diego County, including Cajon Valley Union School District, had received Elementary School Waivers to resume in-person instruction. (See "Implementing Mitigation Strategies in Cajon Valley Union School District.") Around the same time, the county was placed into the red tier and officially authorized to open schools on September 1, 2020. Each district was responsible for developing and implementing its own reopening plan, in accordance with state guidance. Although many of the county's districts reopened in fall 2020, some did not and instead provided in-person instruction only to small groups of high-need students, such as students with disabilities, under the state's cohorting guidance. In October 2020, San Diego Unified School District, the county's largest district, remained closed but began to provide appointment-based, in-person instruction to elementary students with the greatest needs.
In early November, the number of COVID-19 outbreaks surged again, and San Diego County moved back to the purple tier. As of November 10, 2020, 6% of the county's k–12 students (including private and charter school students) were learning in person full time, 26% were engaged in hybrid learning, and 68% were attending classes online only. As COVID-19 cases in the community continued to rise over the next several weeks, a number of districts paused in-person instruction and switched back to distance learning. Several districts faced acute staffing shortages due to increased personnel needs and instances in which staff needed to quarantine following possible COVID-19 exposure. Staffing shortages were compounded by a lack of substitute teachers, who were often retirees and had greater health concerns. By December 15, 2020, the percentage of students receiving hybrid instruction had decreased to 19%, while the percentage of students participating in distance learning increased to over three quarters of k–12 students (76%). However, some districts were able to remain open, including Cajon Valley Union School District, which hired an additional 80 teachers and 100 classified employees—including special education classroom assistants, extended day staff, and office support staff—to enable smaller class sizes and facilitate implementation of mitigation measures. In early January, when San Diego County had the fourth-highest number of COVID-19 cases in the nation, the county reported that out of 936 total outbreaks identified across the county, only 19 (2%) had occurred at k–12 schoolsAn outbreak in a school setting is defined as having at least three probable or confirmed COVID-19 cases within a 14-day period in people who are epidemiologically linked in the school, are from different households, and are not identified as close contacts of each other outside of the school. Comprehensive COVID-19 screening tests, which were not widely implemented across San Diego County's school districts, can identify asymptomatic cases that might otherwise go unreported.
After the COVID-19 peak in early January 2021, cases began declining. By the third week of February 2021, the county's case rate fell below the 25 per 100,000 threshold, and on February 19, 2021, the county launched an online portal for accepting school reopening applications. On March 5, 2021, California policymakers passed a $6.6 billion school reopening package, which included $2 billion to support school reopening and $4.6 million for expanded learning opportunities such as tutoring and summer learning programs. (For an example of a summer learning program, see "Extended Learning Opportunities in Cajon Valley Union School District.") Many districts resumed in-person instruction on April 12, including San Diego Unified, which serves nearly a quarter of the county's public school students.
By June 1, 2021, San Diego County's adjusted case rate was 1.7 per 100,000 residents, with a positive test rate of 1.3%, placing the county in the orange tier. During this period of decreasing COVID-19 cases, the number of students receiving in-person instruction increased. As of May 28, 2021, 98% of districts in San Diego County were reopened, providing in-person learning to a total of 232,040 students (55%), either via full in-person or hybrid instruction. Of the county's 42 districts, 21 were providing in-person instruction full time and only one remained closed to in-person learning.
Mobilizing Technical Assistance to Help Districts Navigate School Closure and Reopening
When schools closed in March 2020, San Diego County Office of Education (SDCOE) quickly mobilized efforts to provide technical assistance to help schools switch to distance learning and begin planning for school reopening. Such assistance included creating a website to consolidate COVID-19 and distance learning resources and information, developing actionable tools to help districts comply with state and federal guidelines, and providing on-the-ground examples of implementing mitigation strategies in schools.
On March 16, 2020—the day schools in San Diego County closed—SDCOE hosted a webinar to provide guidance to districts on completing SDCOE's pandemic response plan template. The template is an optional tool, designed to help districts and school communities understand the roles and responsibilities of key local agencies, including SDCOE and the San Diego County Health and Human Services Agency; develop response plans that minimize the on-campus spread of COVID-19 and disruptions to instruction; and communicate updates to relevant stakeholders.
In addition, SDCOE officials assumed from the onset of the pandemic that COVID-19 might have long-term implications for schools. In April 2020, SDCOE released a Planning Assumptions and Recommendations document that covered six areas: public health, school operation, economic impact, educational impact, social-emotional impact, and community. In the document, SDCOE stated that it did not expect a vaccine would be available for the next 12 to 18 months and that conditions were not likely to improve quickly enough for schools to resume pre-pandemic operations for the rest of the 2019–20 school year. However, it noted that long-term school closures should not be necessary and that schools might be able to reopen with modified operations, including smaller group sizes, proactive screening of students, and physical distancing in all settings.
SDCOE also anticipated an increase in parent demand for distance learning programs, a greater need for school nutrition programs, the probability that the most underserved students would experience the greatest learning disruptions, and the potential for significant and lasting mental health impacts on students. For each set of assumptions, SDCOE laid out a list of recommendations, which included:
developing a broad range of distance learning options;
planning for hybrid learning;
creating plans to restore school operations in phases;
identifying strategies, policies, and plans to implement safety measures such as distancing in schools;
making work accommodations to protect employees in high-risk groups; and
developing plans to support the mental health of students, families, and staff.
SDCOE also recommended that schools and districts consider parent and student voices and collaborate with employee associations when making decisions. On March 30, 2020, SDCOE modeled this recommendation when it entered into a memorandum of understanding (MOU) with the teachers union for SDCOE, the San Diego County Association of Educators, to provide supports for schools and teachers for the shift to distance learning. The MOU stipulated that teachers should not be subject to discipline for issues related to distance learning and committed to providing technological infrastructure and technical support, as well as 2 days of professional learning for educators before beginning distance learning. In addition, SDCOE negotiated contracts with local internet providers to reduce costs and streamline the sign-up and installation processes for students and families. According to SDCOE, over 100,000 students in the county lacked broadband connectivity and over 300,000 students lacked mobile computing devices prior to the pandemic. By January 2021, SDCOE was able to provide internet and computing devices to about 80% of these students.
On June 17, 2020, SDCOE launched a comprehensive framework for reopening campuses in the fall. (See Figure 1.) The framework, which was developed after consulting district leaders, teachers unions, parent representatives, and experts in special education and transportation, provided a wide range of practical tools based on CDC guidelines. Targeting issues such as hybrid learning, food insecurity, and mental health impacts of the pandemic, the county's framework included a wide range of resources, including planning materials for reopening; considerations for personnel and student policies; and resources on facility sanitizing, campus capacity, meal programs, busing, arrival and symptom screening procedures, and scheduling. In addition, the framework addressed instruction and learning, including lesson plans for prevention practices, as well as measures for special education and providing social-emotional supports for students and staff. SDCOE's reopening framework served as an exemplar for the development of the initial reopening guidance that California released in July 2020.
After California released its reopening guidance, SDCOE shifted its focus to supporting schools and districts per the state's guidance by developing tools to support implementation and sharing on-the-ground examples. One SDCOE leader said that in doing so they hoped to make "something that seemed impossible, possible." These tools included a template for schools' reopening plans, which SDCOE later modified and renamed the COVID-19 Prevention Plan for Schools. It also added a checklist for schools to evaluate whether they had addressed all of the elements that the California Department of Public Health described. In addition, SDCOE provided a sample block schedule that incorporates physical distancing and limits student mixing, as well as a decision tree to help schools decide what steps to take under different scenarios if a student or a staff member develops any COVID-19 symptoms. The decision tree was created in partnership with local public health officials and is offered in both English and Spanish, as are several other tools provided by SDCOE.
Leveraging Partnerships to Support Reopening
SDCOE's partnerships with local agencies, including local public health officials, supported its ability to procure reopening resources for districts. Early in the pandemic, SDCOE worked with a dedicated public health team from San Diego County's Health and Human Services Agency on COVID-19-related school issues. Together, they developed a range of actionable tools for districts, including the decision tree and implementation checklist described above. When schools began to reopen in fall 2020, the public health team—which specialized in contact tracing—issued guidance on tracking attendance and provided after-hours contacts for school leaders.
SDCOE also worked with San Diego County to secure funding for testing and tracing. While surveillance testing was not required for reopening schools, the California Department of Public Health suggested that school districts test all staff every 2 months. In fall 2020, San Diego County allocated $5 million in CARES Act funding to support COVID-19 contact tracing and testing, opening 41 community sites for free testing. Four testing centers were reserved exclusively for the county's over 80,000 school employees and operated through January 3, 2021 (as of March 2021, free testing remained available to school staff at county-operated testing sites).
On February 24, 2021, San Diego County, SDCOE, and the California Schools Voluntary Employees Benefits Association (VEBA) announced that school employees in the region would begin receiving vaccines on February 27. This regional agreement allowed San Diego Unified School District, the county's largest district, to launch hybrid instruction for all grades on April 12. SDCOE and VEBA prioritized employees of school sites in neighborhoods on the bottom quartile of the state's Healthy Places Index (HPI). These neighborhoods have the lowest scores on policy action areas that shape health, including health care access, income, housing, transportation, education, and more. The county initially reserved 20% of vaccines for educators, prioritizing those working in neighborhoods with the lowest HPI, and quickly opened up vaccinations to all educators, regardless of the neighborhood they worked in. According to the San Diego Union–Tribune, as of March 18, 2021, 90,000 of the county's school staff members had received email invitations to book a vaccination appointment. By April 2021, 27,000 had been vaccinated through VEBA. SDCOE officials posited that many educators had received their vaccinations through other providers, but they do not know for certain due to health privacy laws.
Gathering Data to Inform the Reopening Process
When some schools began to resume in-person instruction in fall 2020, San Diego was one of the few counties that had established a data reporting system to track the number of students who were participating in distance learning, hybrid learning, or full-time in-person learning, as well as the number of employees who were working in person on campuses. SDCOE started collecting these data from districts in October 2020. While SDCOE staff shared that this method had several limitations, such as not being able to capture details about the situation of underserved students, the data offer a picture of the circumstances under which students were learning.
Initially, the reporting system was voluntary, and data was collected through phone calls and surveys, a process that SDCOE found onerous and labor intensive. Consequently, SDCOE worked with San Diego County to establish a health order to require all school districts, charter schools, and private schools serving students in transitional kindergarten through 12th grade to report the relevant data twice monthly through Google Forms. Since November 9, 2020, SDCOE has been receiving regular data reports from districts, which it publishes on its School Reopening Dashboard (see Figure 2). The compliance rate for data reporting as of March 2021 was 100% for all public schools in the county, including charter schools, as well as 75% of private schools. The county's data collection process and data dashboard served as a model for the state of California's data collection efforts.
In addition to gathering data from districts, SDCOE played an important role in providing schools and districts with relevant data to inform their decisions on school reopening. Because San Diego is a large and diverse county, there was a large degree of within-county variation in transmission rates, and school districts in some parts of the county were impacted more severely by COVID-19 than others. In summer 2020, school leaders approached SDCOE to request data on COVID-19 transmission rates by zip code. To provide districts with more granular information to better inform school reopening policies, SDCOE analyzed publicly available data and provided zip code case rates to districts. These data were also shared publicly, enabling both districts and employees to have a more accurate picture of the COVID-19 situation in their schools' neighborhoods.
SDCOE's proactive approach in mobilizing technical assistance, partnerships, and data enabled the county to provide timely and actionable support for districts to resume in-person instruction. The county was quick to develop several comprehensive, actionable resources, which later became exemplars for the state. While San Diego faced a number of challenges in its reopening process, the county's example shows how close collaboration with educators and public health workers can contribute to safe school reopening.
---
San Diego County: Mobilizing Technical Assistance, Partnerships, and Data to Support School Reopening (research brief) by Melanie Leung, Desiree O'Neal, Naomi Ondrasek, and Hanna Melnick is licensed under a Creative Commons Attribution-NonCommercial 4.0 International License.
This work was supported by the Chan Zuckerberg Initiative, Heising-Simons Foundation, and Silver Giving Foundation. Core operating support for the Learning Policy Institute is provided by the S. D. Bechtel, Jr. Foundation, Heising-Simons Foundation, William and Flora Hewlett Foundation, Raikes Foundation, and Sandler Foundation. The ideas voiced here are those of the authors and not those of our funders.