Summer Learning and Beyond: Opportunities for Creating Equity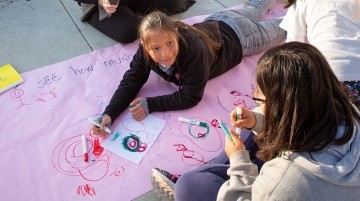 While many education stakeholders have called for intensive remediation for students to address this year of disrupted schooling and potential learning loss, a new report argues that intensive remediation alone will not meet students' needs and—if conducted in a way that is segregating, stigmatizing, and separated from children's real-life concerns—could even deepen inequalities and exacerbate trauma.
Students have experienced multiple forms of trauma this past year from the pandemic and from racialized violence and have shown remarkable strength, resolve, and caring. They deserve learning experiences that are rooted in evidence about how people learn best; experiences that are intellectually honest and authentic; that provide opportunities for joy, exploration, play, and self direction; and experiences that offer them a chance to study and understand the world.
As schools and districts plan for summer learning experiences and beyond, it is more important now than ever that they do so in ways that center the range of experiences, needs, and dreams that young people will be bringing with them to learning environments.
The current moment requires us to consider how to help children grappling with trauma and anxiety while also reimagining how to better serve children, families, and communities, particularly those who have been marginalized by inequitable systems. Summer Learning and Beyond: Opportunities for Creating Equity​, co-produced by the Learning Policy Institute and the Spencer Foundation, was developed to support schools and districts in developing systems that are equitable, rigorous, and meaningful in the pandemic and post-pandemic world.
This report synthesizes cutting-edge research on the science of learning to provide guidelines for how we can address whole child learning and avoid returning to the "old normal." Learning environments need to be centered on strong teacher-student relationships that address students' social and emotional learning, providing students with opportunities to construct knowledge that builds upon their experiences and social contexts in ways that deepen their academic skills. The report argues against the false dichotomy between cognitive learning and social-emotional learning that has been dominating debates around the return to school.
The report provides a set of six design principles, or stances, toward learners and learning that are essential for creating intellectually rigorous and equitable educational settings. These principles provide a holistic framework for designing goals, practices, and activities for summer learning and beyond.
The six design principles for summer learning and beyond include:
Center relationships
Create a culture of affirmation and belonging
Build from students' interests and take a whole child approach to their development
Engage students' and families' knowledge in disciplinary learning
Provide creative, inquiry-based forms of learning
Address educator needs and learning
The report also discusses the importance of each design principle, highlights key ideas and practices that are related to each principle, and lists resources and references (hyperlinked in the text) that people can consult to learn more.
---
Summer Learning and Beyond: Opportunities for Creating Equity by Spencer Foundation is licensed under a Creative Commons Attribution-NonCommercial 4.0 International License.
This report is published jointly by the Learning Policy Institute and Spencer Foundation.
This research was supported by the S. D. Bechtel, Jr. Foundation and the Bill & Melinda Gates Foundation. Core operating support for the Learning Policy Institute is provided by the S. D. Bechtel, Jr. Foundation, Heising-Simons Foundation, William and Flora Hewlett Foundation, Raikes Foundation, and Sandler Foundation. We are grateful to them for their generous support. The ideas voiced here are those of the authors and not those of our funders.
Photo by Allison Shelley for EDUimages