State Policymakers Respond to Teacher Shortages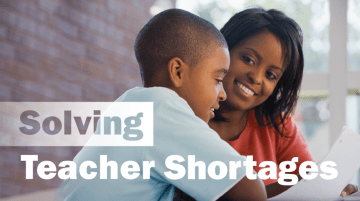 This is the first installment of a new blog series, Solving Teacher Shortages.Over the coming weeks and months, we'll use the blog to highlight innovative and evidence-based initiatives and to explore policy options and other approaches to building a strong and stable teacher workforce.
Just a few weeks after the start of the 2017 legislative session, members of Washington's House Education Committee met in Olympia for two in-depth work sessions on the state's teacher shortage. Committee Chairwoman Sharon Tomiko Santos spearheaded the deep dive into the problem. "There is no quick fix," Tomiko Santos told her colleagues during the first work session. "We are dealing with a significant issue that is going to require a comprehensive look and a comprehensive solution."
Washington is one of many states staring at a serious teacher deficit that is only going to get worse unless steps are taken now to address it. According to a recent report from the Learning Policy Institute, the number of students enrolling in U.S. teacher preparation programs has declined by 35% since 2009—and the diminished supply left states short an estimated 60,000 teachers in 2015–16.
States are responding to shortages with a range of legislative and budget proposals. At a time when Democrats and Republicans are divided on many issues, it's particularly noteworthy that efforts to address teacher shortages have been largely bipartisan affairs, with similar bills introduced by both Democratic and Republican governors and legislators. Many are turning the crisis into an opportunity to build a sustainable, high-quality, and more diverse teacher workforce.
At a time when Democrats and Republicans are divided on many issues, it's particularly noteworthy that efforts to address teacher shortages have been largely bipartisan affairs...
Recently enacted legislation, as well as proposals currently on the table, includes a range of evidence-based approaches. Indiana and Nevada have invested millions in forgivable loans and service scholarships to subsidize the cost of preparation for teachers who commit to stay in the classroom, joining dozens of other states with similar programs. Virginia and Illinois are  recruiting retired teachers to address shortages, while other states are removing barriers to teaching for retirees and out-of-state teachers. Some states, like Minnesota, are identifying strategies to increase the number of teachers of color, while expanding the overall supply of new teachers.
States are also seeking to stem attrition by investing in high-quality preparation programs and improved support for new teachers—two strategies that research has shown to be effective in improving teacher retention. Texas, for example, has enacted legislation to create a state teacher residency program, which provides candidates with a yearlong subsidized apprenticeship during which they take courses while working in the classroom alongside an expert teacher. In exchange for the in-depth preparation, participants commit to teach in a high-need school for four years. California is considering a similar proposal, building on the $35 million the state invested last year to address shortages by expanding pipelines into the profession for paraprofessionals and undergraduate teacher training programs, and by funding a teacher recruitment center. States are also taking up proposals to boost teacher compensation, including a statewide ballot proposal in Utah and a teacher tax credit proposal in California.
Oklahoma is another hard-hit state. Speaking at a gathering of the Council of Chief State School Officers (CCSSO) Network for Transforming Educator Preparation (NTEP) in March, Oklahoma's State Superintendent of Public Instruction Joy Hofmeister painted a vivid picture of Oklahoma's shortage crisis, which is concentrated in early childhood education/elementary grades and STEM fields. According to Hofmeister, the 2015–16 school year began with 1,000 teacher vacancies throughout the state. In Oklahoma, as in other states, emergency credentials have soared, from just 32 in 2011 to 1,167 in 2015.
Oklahoma established a task force in 2015, resulting in the adoption of several policy proposals to address its shortages. These included reducing the barriers to entry for out-of-state teachers, scholarships for teacher licensing test takers, rule changes to allow retired teachers to return to the classroom as mentors, and a recruitment campaign. Proposals to increase teacher salaries and incentivize retired teachers to return to service are under consideration this year.
In Washington, this is the second year legislators have tackled the teacher shortage, which has been exacerbated by the expansion of full-day kindergarten and class size reduction in the early elementary grades. Last year, the state passed legislation that included one-time funding for a recruitment campaign and website, grants and scholarship programs for new teachers, increased support for the state's mentor program for beginning teachers, and pathways for retired teachers to return to the classroom without losing their retirement benefits. This year, lawmakers are considering a number of proposals to raise teacher salaries—a priority for Governor Jay Inslee—and to increase teacher supply. The central proposals include a pay raise of over 20% connected to new professional learning opportunities and a career ladder.
In his budget proposal for 2017–19 biennium, Superintendent of Public Instruction Chris Reykdal underscored the importance of investing in teachers, noting, "Student success from the state's increased investment in full-day kindergarten, K–3 class size reduction, and other…basic education components depends on making significant changes in Washington's ability to attract and retain qualified teachers."
South Dakota's task force report led to passage of one of the most comprehensive efforts yet to address shortages.
South Dakota has also taken a comprehensive approach. There, Governor Dennis Daugaard joined with legislative leaders in establishing a blue ribbon task force in 2015 to address a broad range of education issues, including the state's teacher shortage. The task force report led to passage of one of the most comprehensive efforts yet to address shortages, including the adoption of a statewide half-cent sales tax increase that was used, in part, to raise teacher salaries by an average of $8,000. "The teacher shortage in our state…was exaggerated by the fact that we were dead last in teacher salaries—51st in the nation," Secretary of Education Melody Schopp commented in a webinar on building a strong and sustainable teacher workforce, hosted by the Learning Policy Institute, the Council of Chief State School Officers, and the National Conference of State Legislatures.
The South Dakota package also included support for beginning teachers, direct reciprocity among states to make it less onerous for teachers from other states to teach in South Dakota, and financial incentives for teachers to earn National Board Certification. These initiatives complemented existing investments in both a state service scholarship program that pays for the third and fourth year of undergraduate study for teacher candidates who commit to teach in the state for five years in a high-need subject area, and a "Grow Your Own" program to support paraprofessionals in remote rural areas (especially Indian Reservations) to become teachers. In all, the bills and budget items were a powerful response to South Dakota's teacher shortage.
According to Secretary Schopp, the comprehensive response, including the salary increase, would not have been possible were it not for the groundwork laid by both parties and all stakeholders. "The most important piece," she says, "is the value of the coalition building we did prior to implementing any sort of policy change."
Learn more
The following LPI publications are valuable resources for state policymakers looking to address teacher shortages and build a strong and stable teacher workforce.
---
Danny Espinoza provided research support for this blog.