Webinar—Strengthening the Bench of Principals: Evidence and Examples from Universities, Districts, and States
Hosted by the Wallace Foundation, RAND Corporation, and the Learning Policy Institute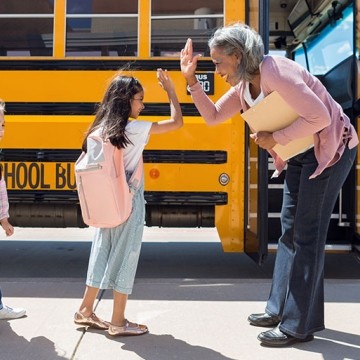 The views, thoughts, and opinions expressed in this video belong solely to the speakers, and do not necessarily reflect the perspective of the Learning Policy Institute.
Effective principals produce better outcomes for the teachers, students, and schools they lead. But great principals don't grow on trees. Two new, comprehensive studies on principal learning—commissioned by The Wallace Foundation—explore the roles universities, states, and districts all play in ensuring that principals get the preparation and ongoing support they need to equip them for success.
Developing Effective Principals by Linda Darling-Hammond, Marjorie E. Wechsler, Stephanie Levin, and Melanie Leung-Gagne of the Learning Policy Institute and Steve Tozer of the University of Illinois Chicago, synthesizes 2 decades of research on principal preparation and development and examines the effects on principals' knowledge and skills, student achievement, and teacher retention and job satisfaction. It also explores principals' access to high-quality learning opportunities and state and local policies that support access.
Redesigning University Principal Preparation Programs  by Rebecca Herman, Susan M. Gates, Ashley Woo, Elaine Lin Wang, Tiffany Berglund, Jonathan Schweig, Megan Andrew, and Ivy Todd of the RAND Corporation reports on findings from a Wallace-funded five-year initiative in which seven universities worked with school districts, state education agencies, mentor programs, and others to redesign their principal preparation programs to reflect the best available evidence-based practices.
Researchers from the Learning Policy Institute and RAND Corporation share highlights from these studies, followed by a panel discussion on research implications with project directors from the initiative and leaders representing state policymakers, superintendents, and the educator professional development community.