WEBINAR | OCTOBER 5, 2023
From Shortages to Solutions: Unpacking Texas's Teacher Workforce Challenges and Opportunities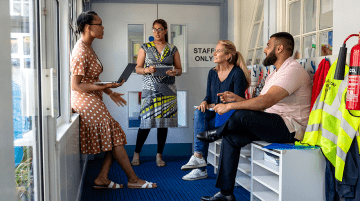 The views, thoughts, and opinions expressed in this video belong solely to the speakers, and do not necessarily reflect the perspective of the Learning Policy Institute.
U.S. teacher shortages are widespread and growing, impacting learning in many states and regions. In Texas, longstanding teacher shortages represent a systemic challenge. Texas has the largest teacher workforce of any state and the demand for new teachers has only grown over the past decade. Yet fewer new teachers are entering the field to meet this demand, and Texas teachers have left the field at a rate that is 25 percent greater than the national average. Together, these factors contribute to persistent shortages across subjects, which are especially acute in critical areas such as special education, math, science, and bilingual and English as a second language instruction.
What are the solutions to this chronic shortage? How can Texas strengthen its teacher preparation pipeline and improve support for teachers in order to attract, train and retain a stable, high-quality teacher workforce?
This webinar with the Charles Butt Foundation and the Learning Policy Institute focused on finding solutions to strengthen the Texas teacher pipeline. Experts discussed the report, Strengthening Pathways Into the Teaching Profession in Texas: Challenges and Opportunities, which examines the conditions that have led to shortages; describes the work underway in Texas to stabilize the workforce; and synthesizes evidence about policy interventions that can help address the key factors influencing workforce stability. The panelists discussed findings from the report and offered their perspectives on solutions for the unique challenges Texas is grappling with.
Speakers:
Jennifer A. Bland, Senior Researcher, Learning Policy Institute
Audrey Boklage, Vice President of Learning & Impact, Charles Butt Foundation
Emily Garcia, Associate Commissioner, Texas Education Agency
JoLisa Hoover, Teacher Specialist, Raise Your Hand Texas