Nation is Staring at a Crisis in Finding, Keeping Qualified Teachers
U.S. Is Short 60,000 Teachers with Gap Expected to Grow; States Rated on Policies that Influence Supply, Demand, and Equity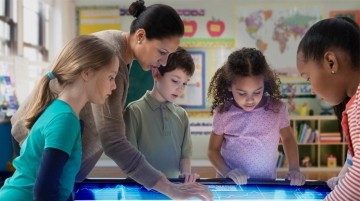 Washington, DC, September 14, 2016—As school opened this year, many districts found themselves scrambling to find qualified teachers in the face of a growing teacher shortage. More than 40 states have reported to the U.S. Department of Education that they faced serious shortages of teachers for math, science and special education and more than 30 states reported serious shortages of teachers for English learners.
According to a new research analysis released today by the Learning Policy Institute (LPI), the nation is staring at a serious teacher deficit that is only going to get worse unless steps are taken now to address it. The analysis, A Coming Crisis in Teaching? Teacher Supply, Demand and Shortages in the U.S., is accompanied by three related policy briefs and an interactive map that rates each state on various factors affecting teacher supply and demand.
The LPI report shows the number of students enrolling in teacher preparation programs has declined by 35 percent since 2009 and the supply of teachers is at a 10-year low. With the school-going population expected to increase by roughly 3 million students over the next decade, the estimated shortage of about 60,000 teachers in 2015-16 could grow to 112,000 by 2018. Meanwhile, teacher shortages already are at a crisis point in low-income communities and communities of color in addition to key subject areas.
According to the report, the developing crisis also is the result of high turnover rates for teachers leaving the profession before retirement age. Turnover is exacerbated when school districts hire untrained teachers to fill the gaps, the analysis found, because these teachers leave at two-to-three times the rate of those who are prepared.
"The teaching profession continues to be a leaky bucket, losing more than 200,000 teachers each year," said Linda Darling-Hammond, president and founder of LPI. "And the gross numbers mask what already has become a critical shortfall in qualified teachers assigned to low-income and high-minority schools."
Without action, the bottom line is clear: America can't provide all students with a 21st century education without a sufficient supply of quality teachers. The LPI reports provide recommendations for changes to policy and practice at the federal, state and local levels to reverse these patterns, particularly the persistently high annual teacher turnover rate.
The new study, more than a year in the works and based on analysis of several large federal data sets, is one of the most comprehensive to analyze the extent and nature of the nation's growing teacher shortage. The research provides the basis for an interactive map that includes numeric ratings of each of the 50 states and the District of Columbia on factors that influence teacher supply, demand and equity such as compensation and working conditions.
According to the study and related briefs, if school districts were to reinstate classes and programs recently cut during the Great Recession, "it would require hiring an additional 145,000 teachers on top of standard hiring needs to reduce average pupil-teacher ratios from the current 16-to-1 to pre-recession ratios of 15-to-1."
Among the key findings:
Student enrollment in teacher preparation programs has dropped from 690,667 in 2009 to 451,155 in 2014.
By 2020, an estimated 300,000 new hires will be needed and by 2025, that number will increase to 316,000. If current supply trends continue, the shortage would reach 112,000 teachers annually by 2018 and remain close to that level thereafter.
In the 2013-14 school year, on average, schools with a high minority population had four times as many uncertified teachers as low-minority schools.
Efforts over the last 25 years to recruit more minority teachers have been successful; since the late 1980's, the number of minorities entering the teaching workforce has more than doubled from about 325,000 to 666,000 by 2012.
Unfortunately for both minority and non-minority teachers, the biggest problem of all is retention. U.S. teacher attrition rates are hovering near 8 percent annually over the last decade and are much higher for beginners and teachers in high-poverty schools and districts. Reducing attrition by half would virtually eliminate the teacher shortage.
The most important factors that influence teacher recruitment and retention are compensation, professional preparation and support for beginning teachers and teaching conditions.
"Teaching conditions have hit a low point in the United States in terms of salaries, working conditions and access to strong preparation and mentoring -- all of which would attract and keep a stronger, more sustainable teaching pool," noted Darling-Hammond.
"Over the past 25 years, efforts to recruit new minority teachers have been very successful, but retaining them has not," added Dr. Richard Ingersoll, a Professor of Education and Sociology at the University of Pennsylvania and the lead author on a policy brief regarding minority teachers. "Minority teachers have high turnover rates largely because of poor working conditions in their schools. Solving the minority teaching shortage will require focusing on both recruitment and retention."
According to the researchers, there is clear evidence to support policy changes that would reverse the teacher shortages. More equitable compensation packages would be an important start, while forgivable loans and service scholarships also could help attract and retain teachers for high-need fields and locations. Improved support for beginning teachers and career development, coupled with better working conditions in local schools, would reverse the turnover problem.
"The teaching workforce is so critical to our future and what we see here is the data we need to help us move forward with thoughtful, effective strategies," said Richard W. Riley, the former governor of South Carolina and secretary of education under President Bill Clinton who now is a partner with Nelson Mullins Riley & Scarborough and Education Counsel. "It's time for a national conversation on the most effective ways to create a strong profession that attracts and retains a talented and diverse teaching force."
"This research underscores the importance of offering effective incentives to keep our best teachers in the profession, contributing their expertise to support others," added Sen. Lamar Alexander, R-Tenn., the chairman of the Senate Health, Education, Labor and Pensions Committee. "While the federal government has a role in supporting teacher quality, the real answers will lie with the creative solutions developed by states and districts."
Ingersoll, Riley and Alexander are scheduled to join LPI leaders and more than 250 educators and advocates at a forum here on Thursday, Solving Teacher Shortages: Attracting and Retaining a Talented and Diverse Teaching Force.
###
About the Learning Policy Institute
The Learning Policy Institute conducts and communicates independent, high-quality research to improve education policy and practice. Working with policymakers, researchers, educators, community groups, and others, the Institute seeks to advance evidence-based policies that support empowering and equitable learning for each and every child. Nonprofit and nonpartisan, the Institute connects policymakers and stakeholders at the local, state, and federal levels with the evidence, ideas, and actions needed to strengthen the education system from preschool through college and career readiness.