Community Schools: An Evidence-Based Strategy for Equitable School Improvement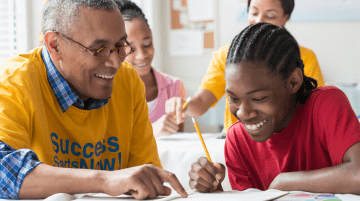 This brief examines the research on community schools, with two primary emphases. First, it explores whether the Every Student Succeeds Act (ESSA) opens the possibility of investing in well-designed community schools to meet the educational needs of low-achieving students in high-poverty schools. And second, it provides support to school, district, and state leaders as they consider, propose, or implement a community school intervention in schools targeted for comprehensive support.
Community schools represent a place-based school improvement strategy in which "schools partner with community agencies and local government to provide an integrated focus on academics, health and social services, youth and community development, and community engagement."Coalition for Community Schools. (n.d.). What is a community school? Washington, D.C.: Coalition for Community Schools. Retrieved on April 8, 2017. Many operate year-round, from morning to evening, and serve both children and adults. Although the approach is appropriate for students of all backgrounds, many community schools serve neighborhoods where poverty and racism erect barriers to learning, and where families have few resources to supplement what typical schools provide.
Community schools vary in the programs they offer and the way they operate, depending on their local context. However, four features—or pillars—appear in most community schools:
Integrated student supports
Expanded learning time and opportunities
Family and community engagement
Collaborative leadership and practices
Because ESSA requires that federally funded interventions be "evidence-based," we reviewed both research on community schools as a comprehensive strategy and research on each of the four individual pillars of the strategy. We summarized the findings and evaluated the studies against ESSA's criteria for "evidence-based" interventions, which define different tiers of evidence based on research methodology.
We conclude from our review that the evidence supports well-implemented community schools being included as part of targeted and comprehensive interventions in high-poverty schools. This evidence also supports community schools as an approach appropriate for broader use.
Policymakers who want to incorporate a community schools' strategy into their ESSA state plans—as well as other plans for state and local school improvements—can benefit from the following research-based recommendations:
Take a comprehensive approach to community schools: All four pillars— integrated student supports, expanded learning time and opportunities, family and community engagement, and collaborative leadership and practices—matter; moreover, they appear to reinforce each other. To ensure a good outcome, pay attention to both the technical and the cultural dimensions of a community school. For example, plan not simply for a longer school day, but also for effective use of time gained. Certified teachers are best positioned to provide additional academic instruction, while community partners can engage students in experiential learning opportunities that connect to the community and foster significant relationships with adults. The work is best accomplished when school and community representatives plan and work together, building a school culture that is collaborative and collegial.
Recognize that successful community schools do not all look alike. Develop a plan that operationalizes the four pillars in ways that address local assets and needs, keeping in mind that the context of schools and communities may change over time. Therefore, as events unfold, be prepared to modify the original implementation rather than avoiding programmatic change. As ESSA suggests, use data in an ongoing process of continuous program evaluation and improvement.
Provide sufficient planning time to build trusting relationships between the school and an array of service providers as well as parents and staff, being mindful that such collaboration is key to full implementation.
Involve the community, parents, and young people as part of the needs assessment, design, planning, and implementation processes. ESSA requires it, and, in the case of community schools, such collaborative relationships are part of what will make the strategy successful.
Use evaluation strategies that provide information not only about progress toward hoped-for outcomes, but also about implementation and exposure to services. Be aware that outcomes are likely to span multiple domains—achievement, attendance, behavior, relationships, and attitudes—and are likely to take time to be fully realized. Certain outcomes, such as attendance, are likely to be achieved before other outcomes, such as achievement. Use data for continuous program refinement, while allowing sufficient time for the strategy to fully mature.
Encourage and support researchers, allowing them to conduct more rigorous studies using methods that will enable a stronger understanding of community schools' effectiveness, and yield greater insight into the conditions under which they work well. Because this approach is frequently adopted as a turnaround strategy in underperforming schools, current evidence consists largely of program evaluations that assess student- and school-level progress. Additional research should seek to guide implementation and refinement.
---
This report is published jointly by the Learning Policy Institute and the National Education Policy Center.
Community Schools: An Evidence-Based Strategy for Equitable School Improvement (brief) by Jeannie Oakes, Anna Maier, and Julia Daniel is licensed under a Creative Commons Attribution-NonCommercial 4.0 International License.