Creating the Conditions for Children to Learn: Oakland's Districtwide Community Schools Initiative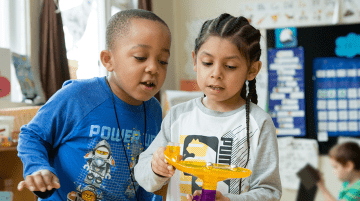 Community schools partner with local organizations and family members to integrate a range of supports and opportunities for students, families, and the community in order to promote students' physical, social, emotional, and academic well-being. Community schools typically incorporate four key pillars: (1) integrated systems of support, such as mental and physical health care and other wraparound services; (2) enriched and expanded learning time and opportunities, including lengthening the school day and year as well as enriching the curriculum through student-centered learning; (3) active family and community engagement that includes service provision and meaningful partnerships with family members; and (4) collaborative leadership practices that coordinate school services and include various school actors in decision-making. Research shows that community schools generate a range of positive outcomes through a collaborative and equitable approach to education, particularly among students from marginalized groups.
Community schools are an evidence-based strategy for implementing whole child education, which addresses the full scope of children's development across multiple domains—including academic, physical, psychological, cognitive, social, and emotional learning. Grounded in the science of learning and development, whole child education promotes positive developmental relationships; environments of safety and belonging; rich learning experiences; the development of social, emotional, and cognitive skills, habits, and mindsets; and integrated support systems that enable schools to meet students' holistic needs.
With historic investments in the community schools approach at the federal and state levels, educational leaders can benefit from learning how to build, implement, and sustain high-quality community schools in policy and practice. This study examines the relationship between district support, community schools, and whole child educational practices in three schools within the Oakland Unified School District (Oakland Unified), a long-standing, full-service community schools (FSCS) district that intentionally links whole child education to its community schools initiative.
District Support for Oakland Unified's Community Schools
The findings indicate that:
Oakland Unified has sustained its FSCS initiative through leadership turnover and periods of lean funding by engaging a wide range of stakeholders, braiding varied funding sources, and enacting formal policy commitments that make community schools a stable part of the district infrastructure.
 
Oakland Unified built its community schools initiative on whole child education principles that enabled schools to improve a range of conditions for student learning. As a part of this alignment, Oakland Unified developed district-level infrastructure that supported schools to implement community school approaches. The district partnered with county-level agencies to bolster the provision of integrated supports in schools and centralized the management of many partnerships, enabling schools to focus on delivering programs and services.
 
Oakland Unified developed school-site roles and systems to support community schools, such as community school managers and service teams, which enabled schools to build and embed the necessary infrastructure. Coordination of Services Teams (COSTs) connected students and families with academic interventions and mental, behavioral, and physical health supports and services.
 
Oakland Unified built staff capacity to implement community schools by providing professional development for community school managers and others in unique community school positions.
 
Oakland Unified developed common tools and processes to promote family engagement. District and school leaders enacted structures for local decision-making that include students and families. Staff used multiple strategies to help families feel welcome in school communities.
 
District- and school-level integration of community school supports allowed teachers to focus on improving curriculum and instruction. Teachers reported that with integrated services, and with processes in place that connect students and families with resources, they were able to prioritize student-centered learning opportunities.
 
Community schools in the study received district support for professional development that focused on promoting positive relationships throughout their school communities.
Implications for Districts and Schools
Findings from this study suggest ways in which districts can support and sustain community schools over time and help schools integrate whole child education and community school approaches. The following implications can inform community school implementation in a range of settings:
Sustaining community school initiatives. Districts adopting community school initiatives should consider implementing processes to enable broad-based support among school and community actors; diversifying funding sources; and formalizing plans and commitments through district policy and documentation. Such strategies have sustained Oakland Unified's initiative, even through staffing and financial challenges.
 
Developing a district-level infrastructure to facilitate partnerships. Districts can facilitate community schools and whole child approaches by centralizing partnership processes that enable integration of school-level supports and increasing cross-sector collaboration at the county level. These district supports enabled the study schools to provide a wide range of health and educational services without placing additional administrative burdens on schools.
 
Linking whole child education and community school approaches. Oakland Unified provides an infrastructure that connects students with resources while enabling educators to center whole child educational approaches. Personalized approaches, positive behavioral supports for students, and professional development and capacity building for school-level staff are prioritized at the central level. Districts and schools must also invest in strategies that promote students' sense of belonging and connection, particularly at the secondary level.
 
Developing school-level roles and structures that support service delivery. Districts can support schools by bringing coherence to staff roles in which new work streams are managed (e.g., community school managers); developing universal systems (e.g., COSTs) that allow school teams to efficiently match students and families with needed resources; and providing professional learning and networking for staff in these roles and on these teams.
 
Building the capacity of school staff to enable the school to function as a community school. Districts can support schools by providing professional learning opportunities to help staff embrace new structures, work streams, and dispositions. Oakland Unified provides coaching and mentorship for principals and other staff, interschool learning communities, and training on various topics related to student and family well-being. These types of learning opportunities supported our study schools in functioning as community schools and in improving their school climates.
 
Engaging families in decision-making. Deeply engaging all families and sharing aspects of school governance and decision-making with them is important and challenging, taking time and effort. Districts can support schools by introducing strategies such as family outreach, conferences with teachers or advisors, and inclusive school decision-making.
---
Creating the conditions for children to learn: Oakland's districtwide community schools initiative by Sarah Klevan, Julia Daniel, Kendra Fehrer, and Anna Maier is licensed under the Creative Commons Attribution-NonCommercial 4.0 International License.
This research was supported by the Chan Zuckerberg Initiative and the Stuart Foundation. Core operating support for LPI is provided by the Heising-Simons Foundation, William and Flora Hewlett Foundation, Raikes Foundation, Sandler Foundation, and MacKenzie Scott. We are grateful to them for their generous support. The ideas voiced here are those of the authors and not those of our funders.
Cover photo by Allison Shelley for All4Ed.