Kerner Commission 50th Anniversary: Education and the Path to One Nation, Indivisible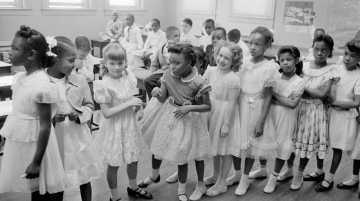 The views, thoughts and opinions expressed in this video belong solely to the speakers, and do not necessarily reflect the perspective of the Learning Policy Institute.  
Jump to: Introduction & Opening Remarks | Panel One | Panel Two | Closing Remarks
Fifty years ago this March, the Kerner Commission, appointed by President Lyndon Johnson, issued a seminal report on racial division and disparities in the United States. The report was produced in response to civil unrest that raged across the country. In it, the commission concluded that, "Our nation is moving toward two societies, one black, one white—separate and unequal." Today, many of the same issues plague the country, and concerns over civil rights, racial division, and racial disparities are, in many ways, more pressing than ever.
On February 28, the Learning Policy Institute hosted a half-day forum in Washington, D.C. to discuss the findings related to education from the 50-year update to the commission report, Healing Our Divided Society: Investing in America Fifty Years After the Kerner Report. The forum focused on education as the foundation for change within the broader scope of poverty, inequality, and racial injustice that the Kerner Commission report addresses. Leading journalists, researchers, policymakers, practitioners and community members shared perspectives on the current state of public education in the United States, discussing what policy levers are needed to eradicate racial inequities that have persisted in historically marginalized communities and that can improve educational opportunities for all students.
Speakers
Zakiyah Ansari, Advocacy Director, Alliance for Quality Education
Linda Darling-Hammond, Professor Emeritus, Stanford University; President, Learning Policy Institute
Patricia Gándara, Professor, University of California, Los Angeles; Co-Director, Civil Rights Project
Ebony Green, Executive Director of Equity and Access, Newburgh Enlarged City School District
Anne Holton, Visiting Professor of Public Policy and Education, George Mason University; former Virginia Secretary of Education
John B. King, Jr., Chief Executive Officer, The Education Trust; former U.S. Secretary of Education
Kent McGuire, Program Director of Education, William and Flora Hewlett Foundation; former President and CEO, Southern Education Foundation
Gary Orfield, Professor at the University of California, Los Angeles; Co-Director, Civil Rights Project
Roberto Rodríguez, President and CEO, Teach Plus; former Domestic Council Policy Advisor to President Obama
Claudio Sanchez, Education Correspondent, National Public Radio (NPR)
Neera Tanden, President and CEO, Center for American Progress and Action Fund