Webinar—Closing California's Opportunity Gap: Ensuring All Students Have Access to Fully Prepared Teachers
Sponsored by the Learning Policy Institute, California Partnership for the Future of Learning, California Teacher Residency Lab, EdPrepLab, The Education Trust—West, and Prepared to Teach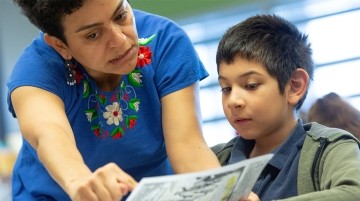 The views, thoughts, and opinions expressed in this video belong solely to the speakers, and do not necessarily reflect the perspective of the Learning Policy Institute.
A well-prepared and stable teacher workforce is foundational to California's ability to achieve equitable and excellent student outcomes and close achievement gaps. But ongoing and deepening teacher shortages remain a major challenge, and emerging signals suggest that shortages may worsen because of the COVID-19 pandemic. Fortunately, California's prior investments in teacher recruitment and retention are beginning to show promising outcomes and provide a foundation for the state to build upon.

The Learning Policy Institute, California Partnership for the Future of Learning, California Teacher Residency Lab, EdPrepLab, The Education Trust—West, and Prepared to Teach hosted this webinar featuring researchers, policymakers, and practitioners. Speakers discussed the impacts of the state's ongoing teacher shortages, as well as recruitment and retention strategies, including teacher residencies, that show promise in addressing this pressing problem. Presenters also shared findings from the reports, Sharpening the Divide: How California's Teacher Shortages Expand Inequality and Sustainable Strategies for Funding Teacher Residencies: Lessons From California. Topics included:
An update on the shape of California's teacher shortages, including inequities in student access to a fully-prepared, diverse, and stable teacher workforce.
An examination of emerging outcomes from state efforts to address teacher shortages.
A deep dive into California's teacher residencies, including the role that programs have played in whole-school improvement and boosting student achievement.
An analysis of the implications of COVID-19 for district staffing shortages.
Speakers
Austin Beutner, Superintendent, Los Angeles Unified School District
Desiree Carver-Thomas, Researcher and Policy Analyst, Learning Policy Institute
Linda Darling-Hammond, President, Learning Policy Institute
Naomi Ondrasek, Senior Researcher and Policy Advisor, Learning Policy Institute (moderator)
Jeanna Perry, Manager, Teacher Development, Fresno Unified School District
Mary Vixie Sandy, Executive Director, California Commission on Teacher Credentialing
Jeraldy Vega, Instructional Coach, Young Oak Kim Academy, Los Angeles Unified School District
Resources Shared During the Webinar

Cover photo by Allison Shelley for American Education: Images of Teachers and Students in Action.