Webinar: How Districts Can Support Meaningful Learning Through Performance Assessments
Hosted by the Learning Policy Institute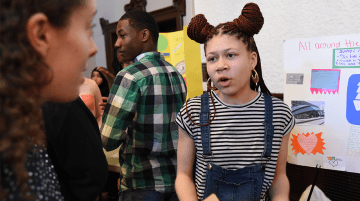 The views, thoughts, and opinions expressed in this video belong solely to the speakers, and do not necessarily reflect the perspective of the Learning Policy Institute.
Educators need ways to assess student learning that can also support students' higher-order thinking skills, help improve teachers' instructional practices, and give young people a chance to demonstrate college and career readiness. In this webinar, three district leaders discussed how they supported the implementation of performance assessments, how they adapted their work in response to COVID-related school closures, and how they are thinking about meaningfully assessing student learning as schools reopen.
Panel members came from three school districts participating in the California Performance Assessment Collaborative: Los Angeles Unified, Oakland Unified, and Pasadena Unified. These districts are the focus of a new Learning Policy Institute report, Using Performance Assessments to Support Student Learning: How District Initiatives Can Make a Difference.
The webinar addressed:
How performance assessments can be used to meaningfully assess student learning.
What supports districts can put in place to help performance assessment initiatives to flourish.
Ways in which students and teachers can benefit from participating in a district performance assessment initiative.
Insights for educators interested in implementing performance assessment initiatives.
Speakers:
Anna Maier, Research Analyst and Policy Advisor, Learning Policy Institute
Esther Soliman, Career Technical Education-Linked Learning Administrator, Los Angeles Unified School District
Young Whan Choi, Manager of Performance Assessments, Oakland Unified School District
Kristina Turley, College & Career Coordinator, Pasadena Unified School District
Photo courtesy of Young Whan Choi/OUSD