Teaching for Powerful Learning: Lessons From Gateway Public Schools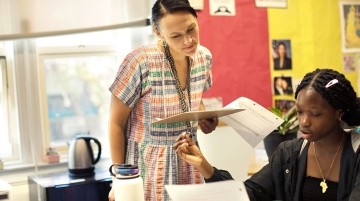 Gateway Public Schools—a middle and high school serving a diverse group of about 800 students in San Francisco—was founded in 1998 by parents of students with learning disabilities seeking a supportive environment for their children. As a public charter organization with a lottery entrance system, Gateway seeks to admit a student body that represents the population of San Francisco's public schools at large, giving priority to local residents and to students eligible for free or reduced-price lunch. Approximately 25% of students enrolled receive special education services, 80% are students of color, and more than 50% are from low-income families.
Gateway has a strong reputation for offering excellent supports for students with learning differences and is known for its high graduation and college attendance rates. Ninety-eight percent of the senior class achieved a 4-year graduation rate in spring 2017 and 2018; 96% have matriculated to college since the high school was founded in 1998. These outcomes are especially notable for a school in which over half of incoming students are reading below grade level when they start 6th grade.
Gateway's founding ideals—focused on empowering students of all learning styles—have transformed into a set of guiding principles for effectively supporting students of all backgrounds. These include:
Inclusivity and equity: Gateway's belief in engaging and supporting all students manifests itself through a school culture, policies, and practices that ensure that both students and teachers of all backgrounds, abilities, and learning styles feel included in the school community.
Relationships: Relationship-building at Gateway starts with creating an atmosphere in which each student feels seen, heard, supported, and included.
Continuous improvement: School staff regularly reflect on Gateway's mission and the ways in which current school structures and instructional techniques are either meeting that mission or could be altered to better serve the student body.
These principles guide a set of structures and practices that are designed to instantiate these philosophies in students' and staff's everyday lived experiences. Each of the structures and practices works in tandem with the others, so there is a mission-driven coherence schoolwide. This case study documents promising school practices that illustrate how the creation of a positive school climate, along with a full and rich curriculum focused on meaningful learning, has led to improved motivation, sense of belonging, and student achievement that outpaces most similarly situated schools in California.
Gateway has a strong reputation for offering excellent supports for students with learning differences and is known for its high graduation and college attendance rates.
The ways in which educators at Gateway honor and nurture the multiple pathways for whole child development are well supported by research emerging from the sciences of learning and development. A recent synthesis of that research points to the importance of four major sets of principles that support whole student achievement and growth:
Supportive environments promote secure attachments and relationships, a sense of safety and belonging, and relational trust through structures that promote long-term relationships and effective care; classroom learning communities ensure students' sense of physical and psychological safety and belonging; and collaboration strategies promote connections among educators, school staff, and families.
Productive instructional strategies connect to students' experiences, support conceptual understanding, and develop metacognitive abilities; these strategies also support engagement and motivation and develop students' ability to learn how to learn.
Social and emotional development promotes the skills, habits, and mindsets that enable self-regulation, interpersonal skills, perseverance, and resilience through regular opportunities to integrate social, emotional, and cognitive skills and through behavior supports that are educative and restorative.
Systems of support enable healthy development and address learning barriers through collaborative, multi-tiered systems of support that provide access to integrated health and social services and extend personalized learning opportunities.
These four principles characterize the practices observed at Gateway Middle School and High School.
---
Teaching for Powerful Learning: Lessons From Gateway Public Schools by Channa M. Cook-Harvey, Lisa Flook, Emily Efland, and Linda Darling-Hammond is licensed under a Creative Commons Attribution-NonCommercial 4.0 International License.
This research was supported by the Chan-Zuckerberg Initiative as part of its support for LPI and the Science of Learning and Development Alliance. Core operating support for the Learning Policy Institute is provided by the Heising-Simons Foundation, Raikes Foundation, Sandler Foundation, and William and Flora Hewlett Foundation. We are grateful to them for their generous support. The ideas voiced here are those of the authors and not those of our funders.
Cover photo provided by Gateway Public Schools.