Districts Advancing Racial Equity (DARE) Tool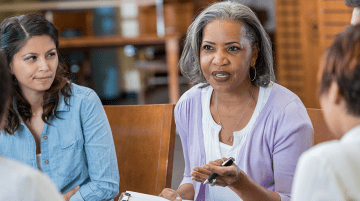 Decades of reforms have proven insufficient to address persistent racial disparities in educational opportunities. In school systems across the United States, meaningful efforts to ensure access to strong educational opportunities require a bold and significant shift. Policies and practice must not only prevent discrimination; they must move beyond simple notions of equality—in which every student gets the same—to equity—in which all students get what they need to develop academically, socially, emotionally, and physically.
School leaders who have been committed to racial equity understand the historical legacy of structural racism that reaches to our present context and that results in the educational opportunity gaps that students still experience. District staff who have focused on racial equity recognize that students' individualized experiences, opportunities, and successes in school are deeply contextualized in the social reality of institutionalized racism across the United States. They seek to educate the individuals and ameliorate the systems that perpetuate inequitable opportunities and resulting outcomes for students.
The Districts Advancing Racial Equity (DARE) tool brings together—in a uniquely broad and practical way—what is known about district actions that can support racial equity. The tool captures research-informed, high-leverage aspects of schooling that leaders must address in order to create systems that build on the strengths of and respond to the needs of students of color. This tool is not an exhaustive, one-size-fits-all manual for advancing racial equity in school districts. Rather, it helps conceptualize and organize systems-level equity work and provides a guide for district leaders to interrogate their systems, set equity-oriented goals, and track progress over time. The tool offers a framework for district leaders and staff to understand the complex ecosystem of policies and practices they design and enact. The tool also contains a set of qualitative and quantitative indicators to support data-informed decision-making and track progress toward greater racial equity.
The system we need requires educational leaders in every corner of our nation to respond in new ways to the complex challenges they navigate and to pay attention to the social, historical, economic, and political contexts of the communities they serve. Although the domains of district work included in this tool are not new, few researchers or practitioners have applied a racial equity lens to these key areas. The DARE tool responds to this need, leveraging what we know about district systems to build on the assets of and respond to the needs of students of color.
The Framework
The following graphic presents the framework for advancing racial equity that sits at the heart of this tool. The framework for advancing racial equity is based on the supposition that achieving racial equity means that student success is not predetermined by student race. Student success occurs when students demonstrate developmentally appropriate academic knowledge and skills; preparation for work, life, and civic participation; and the social-emotional skills that undergird healthy self-image and relationships with others and the broader world. The framework also recommends that districts set direction and take action in an ongoing cycle of improvement in partnership with school community members. The DARE framework consists of six key domains. To achieve racial equity, districts must have the following:
A clear vision for racial equity
Deeper learning and culturally responsive instructional practices
Safe, healthy, and inclusive school environments
Resources that are equitably distributed
Meaningful partnerships with families and the community
Data systems that drive progress toward racial equity
The domains are arranged in a wheel to demonstrate their essential interconnection in a system approach to racial equity.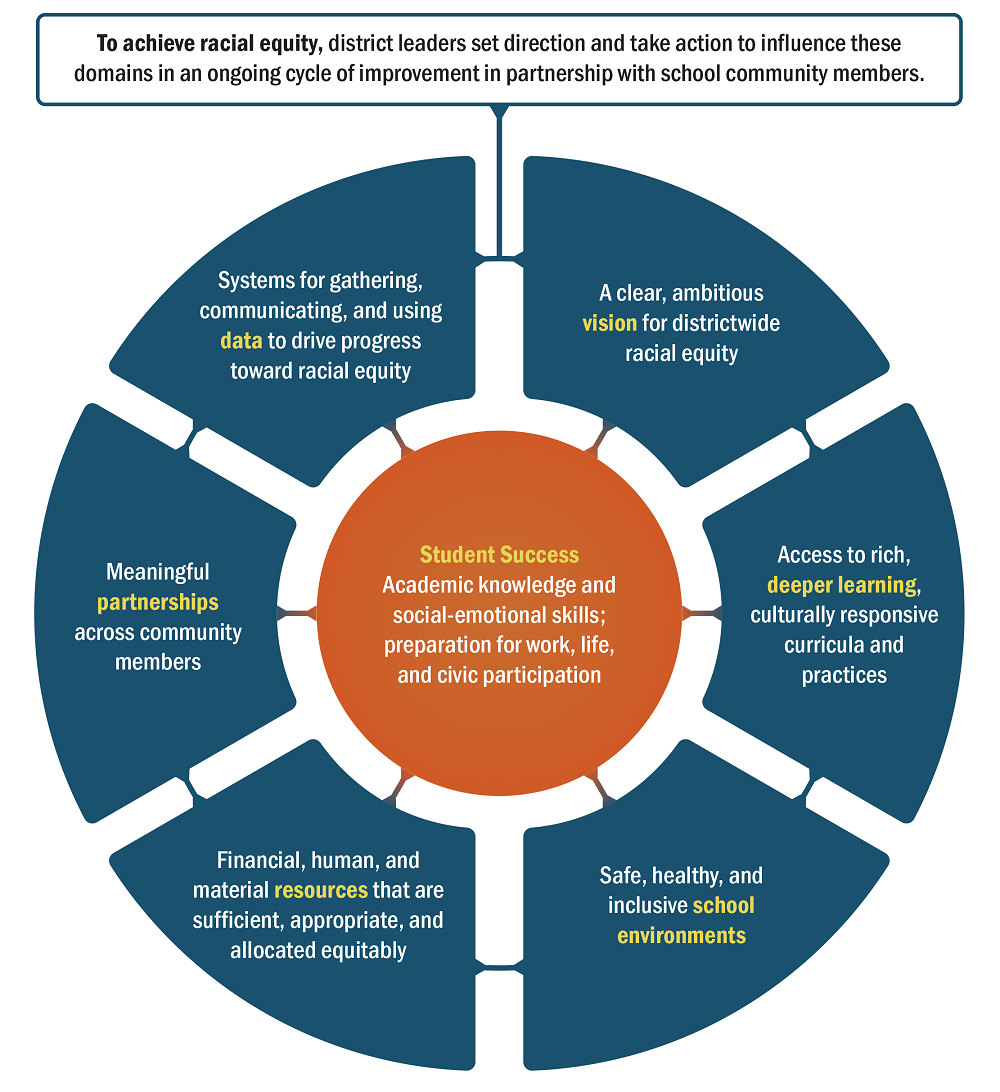 The Southern Education Foundation, in partnership with the Learning Policy Institute and the National Equity Project, launched the Racial Equity Leadership Network (RELN), a fellowship that brings together superintendents and other cabinet-level leaders to strengthen their capacity to advance racial equity in their school systems. The DARE tool was developed to support the work of the fellows and staff from other districts interested in leading this work. It is based on a systematic review of literature and existing instruments for advancing systems-level equity. In its final form, the DARE tool was peer-reviewed by leading academic scholars and practitioner-experts.
---
This tool is published jointly by the Learning Policy Institute and the Southern Education Foundation.
Districts Advancing Racial Equity Tool by Maria E. Hyler, Desiree Carver-Thomas, Marjorie Wechsler, and Larkin Willis is licensed under a Creative Commons Attribution-NonCommercial 4.0 International License.
This research was supported by the Southern Education Foundation. Core operating support for the Learning Policy Institute is provided by the Heising-Simons Foundation, Raikes Foundation, Sandler Foundation, S.D Bechtel Jr. Foundation, and William and Flora Hewlett Foundation. We are grateful to them for their generous support. The ideas voiced here are those of the authors and not those of our funders.