Sharing the Wealth: How Regional Finance and Desegregation Plans Can Enhance Educational Equity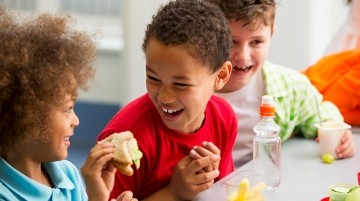 Since segregation is more prevalent across districts than within districts, the most effective approaches for school diversity and equity cross district boundaries.

Sharing the Wealth: How Regional Finance and Desegregation Plans Can Enhance Educational Equity (research brief)
In American public schools, most racial and ethnic segregation—and most financial inequity—occurs between, not within, school districts. This report finds that cooperative interdistrict approaches are often the most effective ways to address these problems. Looking at three examples from Boston, MA; Hartford, CT; and Omaha, NE, the authors examine interdistrict desegregation designs that use innovative funding strategies to foster equity, quality, and access. They share programs' academic and social outcomes and identify four lessons for policymakers:
Secure a metropolitan-wide agreement: Because most racial and ethnic segregation in American public schools occurs between, not within, school districts, successful desegregation plans require collaboration between urban and suburban districts in a comprehensive regional plan.
Establish a clear vision for educational equity: Policymakers, educators, and communities need a collective understanding of what equity means in their region. They need to have a set of goals for achieving both greater diversity and greater educational quality and equity for targeted student subgroups that are specific to the region; a measurable definition of and a means to reduce "racial isolation" at the school and classroom levels; and goals and benchmarks for greater diversity and greater equity that respond to realistic timelines and local factors.
Sustain efforts with equitable resources: Policymakers, educators, and communities should develop regionally based finance reform that allocates additional funds to the schools and students who need it most; invest in regional magnet programs, capital improvements, and teacher professional development that raises the quality of schooling options available in all districts; conduct marketing campaigns that build strong and accessible systems of public information around schooling options; provide services for transfer students and families that include transportation, school counseling, and family liaisons; and provide continued supports for schools and for students who attend schools in their neighborhoods.
Create a strong data and evaluation plan: Data monitoring allows practitioners and policymakers to test, evaluate, and adapt interdistrict plans to best serve all students. Policymakers, educators, and communities must ensure that plans are aligned to a clear vision for equity, with specific criteria for determining racial isolation or segregation and targets for reducing these conditions. They must monitor these goals using multiple measures of student success; disaggregate data across student subgroups; and ensure that data collected are visible in the community, with opportunities to incorporate stakeholder feedback effectively and in a timely manner.
---
Sharing the Wealth: How Regional Finance and Desegregation Plans Can Enhance Educational Equity​ by John Brittain, Larkin Willis, and Peter W. Cookson Jr. is licensed under a Creative Commons Attribution-NonCommercial 4.0 International License.
This research was supported by the Raikes Foundation. Core operating support for the Learning Policy Institute is provided by the Sandler Foundation, the William and Flora Hewlett Foundation, and the Ford Foundation. We are grateful to them for their generous support. The ideas voiced here are those of the authors and are not to be attributed to our funders.