Kerner at 50: Who Will Be Bold and Courageous? Confronting Racism and School Funding Equity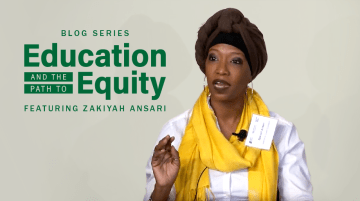 This blog is part of the series, 
Education and the Path to Equity,
 examining issues of education and equity 5 decades after the Kerner Commission issued its seminal report on racial division and disparities in the United States.
When it was published 50 years ago, the Kerner Commission report was groundbreaking and thought-provoking for many and brought great hope for justice and equity. Just imagine: An official acknowledgement by the U.S. government that it was failing a large segment of its population, while at the same time making recommendations that were surely seen as radical and too idealistic. Soon after, this wake-up call prompted policy changes that actually began to close the achievement gap between Black and White students and to improve prospects for people of color and people living in low-income households.
But those policies were short lived. Instead, persistent racial discrimination has endured, making progress in addressing poverty and racial injustice halting at best, with forward movement frequently countered by backward slides. These backslides can be seen in every aspect of society, including policies on housing, economics, criminal justice, and education. In fact, while the racial achievement gap in reading decreased by half during the 1970s and '80s, it's now 30% larger than it was in 1978.
Horace Mann called education the "great equalizer," and most Americans believe in the right of every student to learn. However, in a country where schools are more segregated than ever and where a zip code is likely to determine a student's chances of becoming college ready, policy trumps belief. In many communities, there is little prospect of equity for students from low-income households and students of color because local, state, and the federal governments are not investing in the right of all children to learn. That is why we have come together—whether we have school-age children or not—to ensure that all of the country's students have access to an excellent education.
While the racial achievement gap in reading decreased by half during the 1970s and '80s, it's now 30% larger than it was in 1978.
I recently spent 6 weeks traveling across this country, hearing from parents, students, and educators about the challenges they face, especially in low-income neighborhoods. These challenges include the chronic underfunding of schools and the lack of in-school and outside services that people in wealthier neighborhoods take for granted—quality healthcare, after-school programs, school counseling, school and community libraries, and food security.
But I have also seen an inspiring commitment, resilience, strength, and willingness to sacrifice in the struggle for educational justice, driven by the belief that education can change lives and that every child deserves the opportunity afforded them by a high-quality education.
While our systems are not yet adequate to ensure that all children have access to the "great equalizer," many bold and courageous people in communities all over the country are working together to expand and increase access, so that all children can look forward to a brighter future. Together they are—and have been—fighting for real, sustainable change.
If there is any doubt that we can make change when the government fails to do so, I hope the accomplishments of the Alliance for Quality Education (AQE)—our community-centered coalition—can dispel that doubt and be a model and inspiration for others. Among the accomplishments we've achieved in partnership with parents and other community members:
This blog is part of the series, Education and the Path to Equity, examining issues of education and equity. More from the series >
Bold and courageous community members across the country have achieved these and countless other successes. There can be so many more if we come together and demand the resources and policies that will help us create the kinds of education for all children that, now, only the privileged have access to. Each of us has a responsibility to insist on equitable funding in education, and to confront institutional racism, which is not a thing of the past and not a thing that is going away without concerted effort.
We must lead and govern with equity as a central value in all policy and practice decisions. Unless we do, I fear that on the 100th anniversary of the Kerner Commission report, my children's children will face the same education and equity challenges we struggle with today.
Who will be bold and courageous for our children? I will. Join me.
Zakiyah Ansari is the Advocacy Director with the New York State Alliance for Quality Education and one of the co-initiators of the national grassroots movement Journey for Justice.​